empennage
(redirected from Empenage)
Also found in:
Dictionary
,
Thesaurus
.
empennage:
see airplaneairplane,
aeroplane,
or aircraft,
heavier-than-air vehicle, mechanically driven and fitted with fixed wings that support it in flight through the dynamic action of the air.
.....

Click the link for more information.

.

The Columbia Electronic Encyclopedia™ Copyright © 2013, Columbia University Press. Licensed from Columbia University Press. All rights reserved.

www.cc.columbia.edu/cu/cup/
The following article is from The Great Soviet Encyclopedia (1979). It might be outdated or ideologically biased.
Empennage
aerodynamic surfaces of an aircraft that provide longitudinal and directional stability of the aircraft and control its flight. The control surfaces are usually located in the tail part of the fuselage, and less frequently in the nose part. The design of the empennage is similar to that of an aircraft wing; its total surface is 0.25–0.50 of the wing surface. The various types of empennage are distinguished by their front view, side view, and plan view (rectangular, tapered, elliptical, and, for highspeed aircraft, swept-back). The front part of the horizontal empennage, which carries the elevators, is called the stabilizer. The front part of the vertical empennage, which carries the rudder, is called the fin vertical stabilizer.
The elevator is moved by the pilot using the control stick (pulling the stick toward the pilot causes the aircraft to climb; pushing the stick away from the pilot causes the aircraft to descend). The rudder is operated by foot pedals (pressure on the right pedal makes the aircraft turn to the right; pressure on the left pedal results in a left turn). The angles of deflection of the elevator and rudder are usually ±25°–30°. To maintain proper longitudinal stability of the aircraft, the stabilizer is usually equipped with trim tabs, which can be operated by the pilot to adjust the angle of attack within a range of +5° to — 15°. The trimming mechanism is sometimes connected to the control stick, thus causing the stabilizer to operate together with the elevator. The elevator and rudder are often omitted entirely, and the horizontal and vertical empennage are of the all-moving type. In addition, transverse stability of the aircraft (normally provided by the ailerons) can be improved by connecting the right and left halves of the horizontal empennage with the aileron control, thus enabling the elevators to deflect in opposite directions (differential control). The same scheme is used in operating the rudders and the elevators of V-shaped empennage.
The Great Soviet Encyclopedia, 3rd Edition (1970-1979). © 2010 The Gale Group, Inc. All rights reserved.
empennage
[

¦am·pə¦näzh

]

(aerospace engineering)

The assembly at the rear of an aircraft; it comprises the horizontal and vertical stabilizers. Also known as tail assembly.

McGraw-Hill Dictionary of Scientific & Technical Terms, 6E, Copyright © 2003 by The McGraw-Hill Companies, Inc.
empennage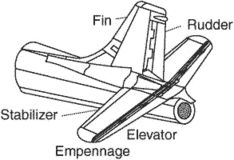 The rear portion, or complete tail unit, of an airplane. The empennage stabilizes the airplane in flight and causes it to rotate about its vertical and lateral axes.
An Illustrated Dictionary of Aviation Copyright © 2005 by The McGraw-Hill Companies, Inc. All rights reserved