End grain
End grain
The face of a piece of timber exposed when the fibers are cut transversely; exposure of this surface to the elements eventually causes deterioration.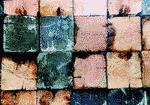 Illustrated Dictionary of Architecture Copyright © 2012, 2002, 1998 by The McGraw-Hill Companies, Inc. All rights reserved
end grain
The wood grain that is exposed when a cut is made at right angles to the grain.
McGraw-Hill Dictionary of Architecture and Construction. Copyright © 2003 by McGraw-Hill Companies, Inc.