Henry II
(redirected from Enrique II)
Also found in:
Dictionary
,
Thesaurus
.
Henry II
, Holy Roman emperor and German king
---
Henry II
, king of England
Early Life
Reign
Restoration of Royal Authority
Henry's vast Continental domains (he ruled about half the area of present-day France) were to occupy him for much of his reign, but his first objective was to restore order and royal authority to an England ravaged by civil war. He did this (by razing unlicensed castles, reclaiming royal castles and alienated crown lands, and appointing capable crown officials) so effectively that the country was free of major disorder until 1173.
Henry's desire to restore royal authority to the level of that in Henry I's reign brought him into conflict with Thomas à Becket, whom he had made (1162) archbishop of Canterbury. The quarrel, which focused largely on the jurisdiction of the church courts, came to a head when Henry issued (1164) the Constitutions of Clarendon, defining the relationship between church and state, and it ended (1170) in Becket's murder, for which Henry was indirectly responsible. The crime aroused such indignation that Henry had to make his peace with the papacy in the Compromise of Avranches (1172). But, though he made some concessions, most clauses of the Constitutions remained in force.
Henry's most significant achievement lay in his development of the structure of royal justice. With the aid of such competent jurists as Ranulf de Glanvill, he clearly established the superiority of the royal courts over private, feudal jurisdictions. His justices toured the country, administering a strengthened criminal law and a revised land law, based on the doctrine of seisin (possession). Procedural advances included the greatly extended use of writs and juries.
While these developments were taking place, Henry was also engaged in consolidating his possessions. He recovered (1157) the northern counties of England from Scotland and undertook (1171–72) an expedition to Ireland, where he temporarily consolidated the conquests already made by Richard de Clare, 2d earl of Pembroke. He was less successful in his attempts (1157 and 1165) to extend his authority in Wales. Henry also expanded his holdings in France, acquiring Vexin, Brittany, and Toulouse.
His Rebellious Sons
Bibliography
See biographies by J. T. Appleby (1962), R. W. Barber (1964, repr. 1967), and W. L. Warren (1973); A. L. Poole, From Domesday Book to Magna Carta (2d ed. 1955); F. Barlow, The Feudal Kingdom of England, 1042–1216 (2d rev. ed. 1962); J. E. A. Joliffe, Angevin Kingship (2d ed. 1963); T. K. Keefe, Feudal Assessments and the Political Community under Henry II and His Sons (1982).
---
Henry II
, king of France
Bibliography
See H. N. Williams, Henry II: His Court and Times (1910).
---
Henry II
, Spanish king of Castile and León

The Columbia Electronic Encyclopedia™ Copyright © 2022, Columbia University Press. Licensed from Columbia University Press. All rights reserved.
Henry II
(Deux) style (1547–1559)

The second phase of the early French Renaissance, named after Henry II who succeeded Francis I. It was characterized by Italian classic motifs which supplanted Gothic elements. The west side of the Louvre in Paris (illus.) is the most characteristic example.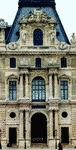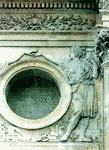 Illustrated Dictionary of Architecture Copyright © 2012, 2002, 1998 by The McGraw-Hill Companies, Inc. All rights reserved
Henry II
1. known as Henry the Saint. 973--1024, king of Germany and Holy Roman Emperor (1014--24): canonized in 1145
2. 1133--89, first Plantagenet king of England (1154--89): extended his Anglo-French domains and instituted judicial and financial reforms. His attempts to control the church were opposed by Becket
3. 1519--59, king of France (1547--59); husband of Catherine de' Medici. He recovered Calais from the English (1558) and suppressed the Huguenots
Collins Discovery Encyclopedia, 1st edition © HarperCollins Publishers 2005