shovel
(redirected from Entrenching shovel)
Also found in:
Dictionary
,
Thesaurus
.
shovel
1. an instrument for lifting or scooping loose material, such as earth, coal, etc., consisting of a curved blade or a scoop attached to a handle
2. any machine or part resembling a shovel in action
Collins Discovery Encyclopedia, 1st edition © HarperCollins Publishers 2005
What does it mean when you dream about a shovel?
A dream about shoveling often represents self-reflection and digging into our own past. Alternatively, maybe we want to bury something. (See also Digging).
The Dream Encyclopedia, Second Edition © 2009 Visible Ink Press®. All rights reserved.
shovel
[

′shəv·əl

]

(design engineering)

A hand tool having a flattened scoop at the end of a long handle for moving soil, aggregate, cement, or other similar material.

(mechanical engineering)

A mechanical excavator.

McGraw-Hill Dictionary of Scientific & Technical Terms, 6E, Copyright © 2003 by The McGraw-Hill Companies, Inc.
power shovel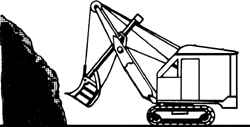 1. A power-operated machine used to excavate and load dirt, rock, or debris by means of an open-ended bucket at the end of an arm which is suspended from a boom; cables or hydraulic rams force the arm (and therefore the bucket) forward and upward, into the material; then the bucket is raised and its load is dumped.
2. A machine having a scoop or bucket for digging up or removing loose material.
McGraw-Hill Dictionary of Architecture and Construction. Copyright © 2003 by McGraw-Hill Companies, Inc.