epicycle
(redirected from Epicycles)
Also found in:
Dictionary
,
Thesaurus
.
epicycle:
see Ptolemaic systemPtolemaic system
, historically the most influential of the geocentric cosmological theories, i.e., theories that placed the earth motionless at the center of the universe with all celestial bodies revolving around it (see cosmology).
.....

Click the link for more information.

.
Epicycle
(religion, spiritualism, and occult)

When Earth was viewed as the stationary center of the universe, the retrograde motion of the planets was explained in terms of epicycles—smaller orbits that circled in the reverse direction from the planets' usual motion.
Epicycle
an auxiliary circle in Ptolemy's geocentric system of the world.
Epicycles were introduced to explain the retrograde motions of the planets. It was presumed that a planet moves uniformly along the epicycle while its center E (see Figure 1) moves along another circle, called the deferent, with its center at the earth. Because a deferent with one epicycle could not explain many irregularities in the motions of the planets, systems of epicycles were introduced. It was believed that the center of the second epicycle moved along the first epicycle, while the center of the third epicycle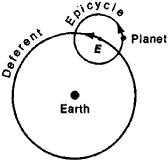 moved, in turn, along the second epicycle, and so on. The planet is located in the last epicycle.
epicycle
[

′ep·ə'sī·kəl

]

(mathematics)

The circle which generates an epicycloid or hypocycloid.