Equatorial Telescope Mounting
The following article is from The Great Soviet Encyclopedia (1979). It might be outdated or ideologically biased.
Equatorial Telescope Mounting
or American mounting (so-called because first used in the USA), a telescope mounting in which the polar axis OO terminates in a fork (see Figure 1) which supports the axis of inclination DD and the telescope. Equatorial mounting is used in many large-scale telescopes in the world, such as in the 2.6–meter reflector at the Crimean Astrophysical Observatory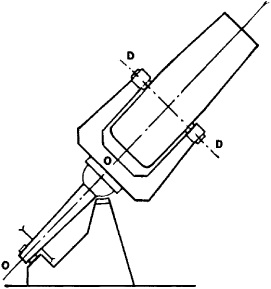 of the Academy of Sciences of the USSR. Sagging of the fork is reduced in some telescopes by enclosing the north end of the fork in a yoke or a yoke with a cylindrical framework which slides over the supports.
The Great Soviet Encyclopedia, 3rd Edition (1970-1979). © 2010 The Gale Group, Inc. All rights reserved.