Eutectic
Also found in:
Dictionary
,
Thesaurus
,
Medical
,
Wikipedia
.
eutectic
[

yü′tek·tik

]

(metallurgy)

The microstructure that results when a metal of eutectic composition solidifies.

(physical chemistry)

An alloy or solution that has the lowest possible constant melting point.

McGraw-Hill Dictionary of Scientific & Technical Terms, 6E, Copyright © 2003 by The McGraw-Hill Companies, Inc.
The following article is from The Great Soviet Encyclopedia (1979). It might be outdated or ideologically biased.
Eutectic
a liquid system that, at a given pressure, is in equilibrium with solid phases whose number is equal to the number of components of the system. The liquid system may be a solution or a melt. According to the phase rule, the solidification of a eutectic system occurs at constant temperature, as does the solidification of pure substances. Hence, upon solidification, a eutectic mixture of solid phases having the same composition is formed. For a given system, the melting point of the eutectic mixture is lower than the melting point of a mixture of any other composition.
The eutectic reaction is characteristic of both metallic and non-metallic systems whose components are completely soluble in one another in the liquid state but are only partly soluble or insoluble in the solid state (seeBINARY SYSTEMS and TERNARY SYSTEM). In the phase diagram of a binary eutectic system whose components are not soluble in one another in the solid state (see Figure 1), the liquidus lines TAE and TBE of the pure components A and B, respectively, intersect at E, which is called the eutectic point. At E, the liquid L is simultaneously saturated in both components.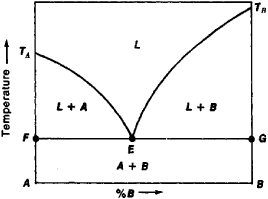 In engineering, eutectics are widely used as, for example, casting alloys and solders. Cryohydrates, which are eutectic aqueous salt systems, are often used as freezing mixtures.
REFERENCES
Bochvar, A. A. Issledovanie mekhanizma i kinetiki kristallizatsii splavov evtekticheskogo tipa. Moscow-Leningrad, 1935.
Anosov, V. Ia., M. I. Ozerova, and Iu. Ia. Fialkov. Osnovy fiziko-khimicheskogo analiza. Moscow, 1976.
The Great Soviet Encyclopedia, 3rd Edition (1970-1979). © 2010 The Gale Group, Inc. All rights reserved.