Expansion Valve
Also found in:
Dictionary
,
Wikipedia
.
expansion valve
[

ik′span·shən 'valv

]

(mechanical engineering)

A valve in which fluid flows under falling pressure and increasing volume.
Expansion Valve
a machine for cooling gas by expansion, with the output of external work. Expansion valves belong to the class of expansion machines but are used principally not to accomplish external work but rather to produce cold. The most efficient means of cooling a gas is its expansion in a valve. Expansion valves are used in units for the liquefaction of gas and the separation of gaseous mixtures by copious cooling, in cryogenic refrigerators, in units that simulate high-altitude and space conditions, and in certain airconditioning systems.

Piston and turbine expansion valves (Figures 1 and 2, respectively) are the most widely used types. Piston valves are machines of positive-displacement periodic action in which the potential energy of the compressed gas is converted into external work by means of the expansion of individual batches of the gas, which displace the piston. They may be vertical or horizontal, single-row or multiple-row. Piston expansion valves are braked by an electric generator or, less frequently, by a compressor. They are used primarily in units having cooling cycles of high pressure (15-20 meganewtons per sq m [MN/m2], or 150-200 kilograms-force per sq cm [kgf/cm2]) and medium pressure (2-8 MN/m2, or 20-80 kgf/cm2) for gas volume flow rates (physical flow rates) of 0.2-20 m3/hr, depending on the temperature and pressure at the entrance to the machine. Turbine expansion valves are continuous-action blade machines in which the flow passes through fixed guide channels (nozzles), which convert part of the potential energy of the gas into kinetic energy, and through the system of rotating blade channels of the rotor, where the energy of the flow is converted into mechanical work, as a result of which the gas is cooled. Depending on the direction of motion of the flow, turbine expansion valves are divided into centripetal, centrifugal, and axial types; depending on the degree of expansion of the gas in the nozzle, into active and reactive types; and depending on the number of stages of expansion, into single-stage and multiple-stage types. The reactive single-stage centripetal valve developed by P. L. Kapitsa is the most widely used type.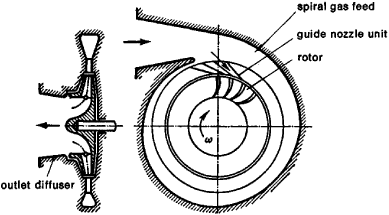 Turbine expansion valves are braked by an electric generator, hydraulic brake, supercharger, or pump. They are used primarily in units having a low-pressure cooling cycle of 0.4-0.8 MN/m2 (4-8 kgf/cm2) for volume (physical) flow rates of gas of 40-4,000 m3/hr. Turbine expansion valves have been developed for low-, medium-, and high-pressure cooling cycles with gas volume flow rates of 1.5-40 m3/hr. They are characterized by small size (rotor diameter, 10-40 mm) and high rotor speed (100,000-500,000 rpm).
expansion valve
In a refrigeration system, a valve for controlling the flow of refrigerant to the cooling element.