bomb
(redirected from Explosive devices)
Also found in:
Dictionary
,
Thesaurus
,
Medical
.
bomb
1.
the bomb
a. a hydrogen or atomic bomb considered as the ultimate destructive weapon
b. Slang something excellent
2. a round or pear-shaped mass of volcanic rock, solidified from molten lava that has been thrown into the air
3. Med a container for radioactive material, applied therapeutically to any part of the body
4. American football a very long high pass
5.
(in rugby union) another term for
up-and-under
www.fas.org/man/dod-101/sys/dumb
Bomb
(1) An archaic name for an artillery projectile. In smoothbore artillery the term "bomb" or "grenade" refers to a projectile consisting of a spherical, hollow, castiron body, a black powder charge, and a wooden tube with a compressed powder compound. The bomb charge would explode after the time train was ignited. From the 19th century in Russian artillery, projectiles with a mass of more than 1 pood (16 kg) were called bombs. This term was kept for high explosive shells in rifled artillery of calibers of 122 mm and higher. In the beginning of the 1930's the term "bomb" was dropped from artillery terminology.
(2) Aerial bombs, one of the types of aviation ammunition.
(3) A projectile for destroying submarines underwater.
What does it mean when you dream about a bomb?
A bomb is quite an attention-getter if it goes off in a dream. Perhaps a situation is becoming too explosive and the dreamer needs to tread carefully to avoid "land mines." Alternatively, perhaps the dreamer is so tightly wound because of some situation that he or she feels ready to explode.
bomb
[

bäm

]

(computer science)

(geology)

Any large (greater than 64 millimeters) pyroclast ejected while viscous.

(ordnance)

An explosive or other lethal agent, together with its container or holder, which is planted or thrown by hand, dropped from an aircraft, or projected by some other slow-speed device (such as a mortar) and used to destroy, damage, injure, or kill.
bomb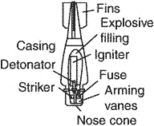 An explosive or other lethal agent together with its container or holder, which is dropped from an aircraft and used to destroy, damage, kill, or injure. The bombs can be high-explosive, armorpiercing, semi-armor piercing, runway denial, incendiary, or any such combinations. Also, similar objects in appearance, effect, and operation, such as a leaflet bomb, smoke bomb, photoflash bomb, or practice bomb.
bomb
(software)

General synonym for

crash

except that it is not used as a noun. Especially used of software or

OS

failures. "Don't run Empire with less than 32K stack, it'll bomb".
bomb
(operating system)
bomb
(software)

A piece of code embedded in a program that remains dormant until it is triggered. Logic bombs are triggered by an event whereas time bombs are triggered either after a set amount of time has elapsed, or when a specific date is reached.