ransomware
(redirected from FBI computer scam)
Also found in:
Dictionary
.
ransomware
Virus software that blackmails users by encrypting their hard drives or locking them out of the computer. It then demands payment to restore it. A favorite ploy is an FBI message claiming the user has child pornography on the computer, and a fine must be paid or else risk arrest. After paying the blackmail on any of these ransomware attacks, very often via Bitcoin, the user's machine may or may not be restored. Also known as a "cryptovirus" or "cryptotrojan."

In 2013, the creators of CryptoLocker collected millions in ransom by infecting Windows PCs until its distribution was halted a year later by the FBI and Interpol. CryptoLocker was the inspiration for other ransomware variants (gotta love that entrepreneurial spirit!). See Petya.

Mobile Phones Too
In 2014, using the same FBI scare tactic, thousands of Android users found their phones locked with demands for payment. See scareware and wares.

Ransomware Protection
As a result of this delightful phenomenon, numerous firms such as Trend Micro, Symantic, Malwarebytes and Avast Software have added ransomware protection in their lines of security products.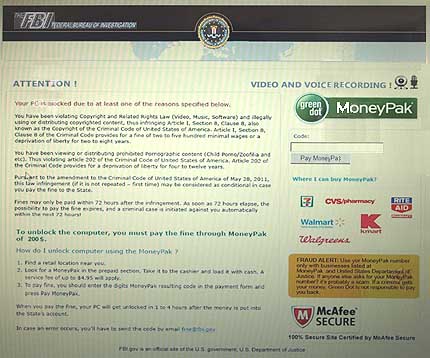 FBI MoneyPak Ransomware
Imagine finding your computer frozen with an FBI alert saying you violated any one or more of video, music or software copyrights or you distributed child pornography. It demands that you put USD $200 cash into a MoneyPak card and enter the card number within 72 hours to unlock your computer and prevent the initiation of a criminal case.