FW
Also found in:
Dictionary
,
Thesaurus
,
Medical
,
Financial
,
Acronyms
,
Wikipedia
.
firewall
The primary method for keeping a computer secure from intruders. A firewall allows or blocks traffic into and out of a private network or the user's computer. Firewalls are widely used to give users secure access to the Internet as well as to separate a company's public Web server from its internal network. Firewalls are also used to keep internal network segments secure; for example, the accounting network might be vulnerable to snooping from within the enterprise.

In the home, a personal firewall typically comes with or is installed in the user's computer (see Windows Firewall). Personal firewalls may also detect outbound traffic to guard against spyware, which could be sending your surfing habits to a website. They alert you when software makes an outbound request for the first time (see spyware).

In the organization, a firewall can be a stand-alone machine (see firewall appliance) or software in a router or server. It can be as simple as a single router that filters out unwanted packets, or it may comprise a combination of routers and servers each performing some type of firewall processing. For more about the various firewall techniques, see firewall methods.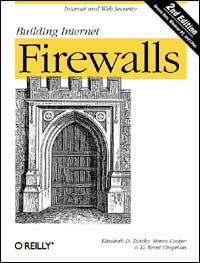 An Excellent Resource
O'Reilly's "Building Internet Firewalls, 2nd Edition" by Zwicky, Cooper and Chapman is one of the best books written on Internet and Web security. It covers a huge range of firewall and related topics and should be a "must have" for anyone interested in the subject. (O'Reilly & Associates, Inc., 2000)
---
FireWire
Officially the IEEE 1394 High Performance Serial Bus (HPSB), FireWire is a high-speed interface developed and promoted mostly by Apple for video transmission. Introduced in 2000, FireWire was added to camcorders and a variety of A/V equipment. Even early iPods could connect via FireWire. However, on modern camcorders, FireWire was replaced with USB, HDMI and other video outputs.

FireWire 400 and 800
FireWire 400 was limited to a distance of 4.5 meters. In 2003, FireWire 800 increased the range to 100 meters and doubled the transfer rate. FireWire supported 63 devices, real-time data transfer, hot swapping and simultaneous multiple speeds. The faster 1600 and 3200 versions never got into production. See PC data buses.


FIREWIRE VERSION TRANSFER RATES1394a - 4.5 METER CABLE LENGTH

  FW400     400 Mbps


  1394b - 100 METER CABLE LENGTH

  FW800     800 Mbps
  FW1600   1600 Mbps
  FW3200   3200 Mbps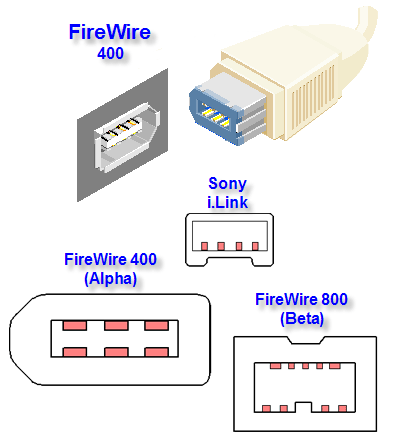 FireWire Sockets and Compatibility
FW800 was backward compatible with FW400. One end of a "bilingual cable" had an FW800 plug, while the other end was FW400. Sony's i.Link was a miniaturized socket that connected to cables with i.Link, FW400 or FW800 at the other end.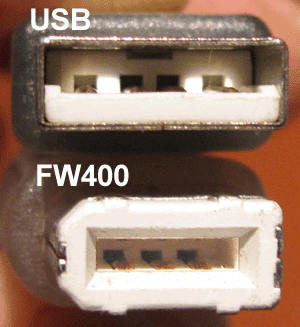 Easy to Tell
FireWire sockets were easily distinguished from their USB counterparts.

Dual Mode FW/USB
This external hard drive connected to the computer via FireWire or USB, whichever cable was plugged in.
---
firmware
(FIRM softWARE) Software instructions residing in non-volatile storage that holds its content without power. Firmware is found on computer motherboards to hold hardware settings and boot data (see BIOS) and on myriad consumer electronics devices to hold the operating system and application.

Not So Firm Today
Today's firmware chips are mostly flash memory, which can be easily updated, especially in consumer electronics products (see firmware update and flash memory). Although still used, the first firmware chips (ROMs, PROMs and EPROMs) could not be updated by the user. Software changes required replacing the chip, hence the "firm" moniker (see ROM, PROM and EPROM).

NOR and NAND Flash Memory
NOR is the type of flash memory typically used for software because individual instructions can be executed in place. NAND flash, which is mainly used for storage, may also be used. However, a program in NAND cannot be executed in place and must be copied to RAM for execution (see NAND flash). See non-volatile memory, flash BIOS, FOTA and wares.



The Beauty of Firmware
Firmware is easily updated and very automatic with most products. This message is a firmware update for the QNAP server, a network storage device (see NAS).
Copyright © 1981-2019 by The Computer Language Company Inc. All Rights reserved. THIS DEFINITION IS FOR PERSONAL USE ONLY. All other reproduction is strictly prohibited without permission from the publisher.
flash welding
A resistance welding process in which metals are joined as a result of heat, obtained from the resistance to an electric current between the metal surfaces, and subsequent pressure.
McGraw-Hill Dictionary of Architecture and Construction. Copyright © 2003 by McGraw-Hill Companies, Inc.