rig
(redirected from Fadir and Modir)
Also found in:
Dictionary
,
Thesaurus
,
Medical
.
rig
1. Nautical the distinctive arrangement of the sails, masts, and other spars of a vessel
2. Chiefly US and Canadian an articulated lorry
Collins Discovery Encyclopedia, 1st edition © HarperCollins Publishers 2005
The following article is from The Great Soviet Encyclopedia (1979). It might be outdated or ideologically biased.
Rig
the totality of sails, spars, and rigging of a sailing vessel. Rigs are defined by the type of sails; that is, there are square rigs, fore-and-aft rigs, and combination rigs. They are further classified according to the arrangement of spars and sails, yielding such types as the lug rig, the sprit rig, the gaff rig, and the divided rig. Varieties such as the lateen rig, Bermuda rig, and Portuguese rig are associated with particular regions. (Sail plans for various rigs are shown in Figure 1.) A rig may also be named for the type of vessel on which it is used, for example, bark or yawl rig. A fully square-rigged vessel, such as a brig, frigate, or ship, carries square sails on all masts; vessels with fore-and-aft rigs, such as ketches, yawls, and schooners, ordinarily carry only fore-and-aft sails. There are also vessels with combination rigs. These include topsail schooners, brigantines, barkentines, and barks, which may set both square and fore-and-aft sails, from the same or from different masts.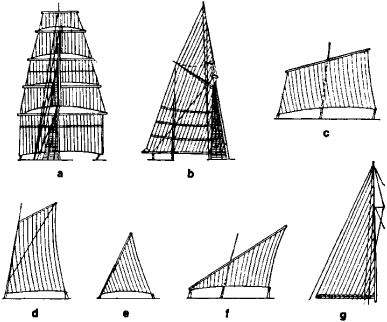 The type of rig determines a vessel's sailing qualities and maneuverability, influencing the ability to catch the wind, sail upwind, or lie to. It also determines such handling characteristics as the ease with which sails may be set, struck, or trimmed for a change of course or for tacking to windward.
The Great Soviet Encyclopedia, 3rd Edition (1970-1979). © 2010 The Gale Group, Inc. All rights reserved.
rig
[

rig

]

(mechanical engineering)

A tripod, derrick, or drill machine complete with auxiliary and accessory equipment needed to drill.

(naval architecture)

The method according to which spars and sails are designed and fitted.

McGraw-Hill Dictionary of Scientific & Technical Terms, 6E, Copyright © 2003 by The McGraw-Hill Companies, Inc.
rig
Equipment; hardware; gear. The phrase "what's in this rig?" means what does this equipment contain.

Copyright © 1981-2019 by The Computer Language Company Inc. All Rights reserved. THIS DEFINITION IS FOR PERSONAL USE ONLY. All other reproduction is strictly prohibited without permission from the publisher.