Fast Reactor
Also found in:
Dictionary
,
Thesaurus
,
Wikipedia
.
fast reactor
[

¦fast rē′ak·tər

]

(nucleonics)

A nuclear reactor in which most of the fissions are produced by fast neutrons, with little or no moderator to slow down the neutrons.

McGraw-Hill Dictionary of Scientific & Technical Terms, 6E, Copyright © 2003 by The McGraw-Hill Companies, Inc.
The following article is from The Great Soviet Encyclopedia (1979). It might be outdated or ideologically biased.
Fast Reactor
(also fast-breeder reactor), a nuclear reactor in which a chain fission reaction of nuclear fuel is effected by fast neutrons. High-energy neutrons produce a relatively high yield of fission neutrons. The absorption of some fast neutrons by nonfissionable isotopes followed by their conversion into fissionable isotopes (for example, 238U into 239Pu) results in the production of nuclear fuel (the formation of secondary fuel). (The conversion ratio may attain 1.6:1.) A breeding blanket surrounds the core in the reactor tank (see Figure 1). In a fast power reactor, the coolant (mainly liquid sodium) is heated in these blankets and emits heat to the working steam-water medium in the heat exchangers. If a sodium coolant is used, the reactor and steam-generating circuits are separated by an intermediate (also sodium) circuit in order to prevent radioactive sodium from entering the turbine circuit. Other means of heat removal can be used.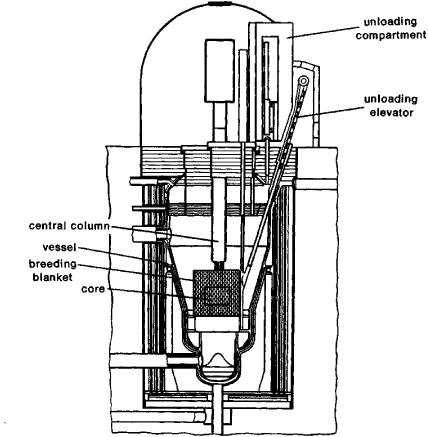 The breeding of nuclear fuel in a fast reactor makes it possible in principle to utilize all the existing uranium resources, including 238U, substantial quantities of which remain unused in reactors operating on thermal neutrons. A series of experimental fast reactors has been built in the USSR, and an electric power plant based on a fast reactor has been built in the city of Shevchenko (Kazakh SSR).
The Great Soviet Encyclopedia, 3rd Edition (1970-1979). © 2010 The Gale Group, Inc. All rights reserved.