fineness ratio
Also found in:
Wikipedia
.
fineness ratio
[

′fīn·nəs 'rā·shō

]

(aerospace engineering)

The ratio of the length of a streamlined body, as that of a fuselage or airship hull, to its maximum diameter.
fineness ratio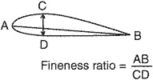 The ratio of the chord to the maximum thickness of an airfoil expressed as a percentage. In the case of other streamlined bodies, it is the ratio of their length to their maximum diameter, or, sometimes, to some equivalent dimension. This is said especially of bodies such as airship hulls or rockets. For best results, the ratio should be about four to one, but it really depends on the air speed; the higher the speed, the greater should be the fineness ratio. However, experiments show that there is not much variation in the drag for quite a large range of fineness ratios. Also called a
thickness/chord ratio
.