boxing
(redirected from Fist fight)
Also found in:
Dictionary
,
Thesaurus
,
Medical
.
boxing
boxing, sport of fighting with fists, also called pugilism and prizefighting.
Early History
Depicted on the walls of tombs at Beni Hasan in Egypt, dating from about 2000 to 1500 B.C., boxing is one of the oldest forms of competition. A part of the ancient Olympic games, the sport was exhausting and brutal. The Greeks fought without regard for weight differentials and without interruption, a match ending only when a fighter lost consciousness or raised his hand in resignation. Boxers wound heavy strips of leather around their hands and wrists. Under Roman rule, these thongs (the caestus) were laced with metal, ensuring an abundance of blood. Statues of maimed boxers from late antiquity attest to the carnage. After the demise of the Olympics, boxing survived as a common sport. It persisted at local fairs and religious festivals throughout medieval Europe and was especially popular in the west and north of England, where it was often a combination of wrestling and street fighting.
The Organization of Boxing
In early 18th-century England, boxing, with the aid of royal patronage in the form of betting or offering prizes, became organized. James Figg, the first British champion (1719–30), opened a School of Arms, which attracted numerous young men to instruction in swordplay, cudgeling, and boxing—the "manly arts of self-defense." After delivering a fatal blow in a bout, Jack Broughton drew up (1743) the first set of rules. Though fights still ended only in knockout or resignation, Broughton's rules moderated the sport and served as the basis for the later London Prize-ring Rules (1838) and Queensbury Rules (1867). The latter called for boxing gloves, a limited number of 3-min rounds, the forbidding of gouging and wrestling, a count of 10 sec before a floored boxer is disqualified, and various other features of modern boxing.
Boxing in the United States
Until late in the 19th cent., American fighters established their own rules, which were few. Early matches, some of them free-for-alls, featured biting and gouging as well as punching. In most instances they were also illegal. In 1888, John L. Sullivan, a bare-knuckle champion and America's first sports celebrity, won a clandestine 75-round match.
New York legalized boxing in 1896, and other states soon followed suit. Although the reign (1910–15) of the first African-American heavyweight champion, Jack Johnson, disturbed the segregated society of the time, and although many continued to question boxing's social purpose, its inclusion in the Olympic games in 1904, its use for military training in World War I, its emergence as a source of discipline for youth, its regulation by state commissions, and its suggestion of national vitality strengthened its claims to legitimacy and bolstered its popularity through the 1920s and 30s. Heavyweight (over 190 lb/86.3 kg) champions Jack Dempsey (1919–26) and Joe Louis (1937–49) were national heroes, Louis becoming one of the first black athletes to gain wide popularity.
Since World War II, boxing has proceeded amid corruption and, at times, chaos. Rising admission prices, restriction of title fights to closed-circuit television, the proliferation of organizations claiming to sanction fights and proclaim champions, financial scandals, ring injuries and deaths, monopolistic practices by promoters, and claims of exploitation of lower-class fighters have threatened its appeal, yet the sport continues to attract huge audiences and investment. Great fighters like Muhammad Ali elicit admiration and fascination, while controversy surrounds others like the repeatedly imprisoned Mike Tyson.
Amateur Boxing
Amateur boxing, while not free from debate, has in recent decades taken steps to ensure safety and objective judging. The Golden Gloves national tournament has long been a stepping stone for young fighters, but the Olympics are the most visible forum for amateurs. Olympic boxers wear eight-ounce gloves and padded head gear and fight just three rounds of three min. Judges use electronic devices to record the scoring punches that determine the winner.
Bibliography
See N. S. Fleischer, Fifty Years at Ringside (1940); A. J. Liebling, The Sweet Science (1956); R. Roberts, Papa Jack (1983); E. Gorn, The Manly Art (1986, upd. ed. 2010); J. Sammons, Beyond the Ring (1988); G. Early, The Culture of Bruising (1994); K. Boddy, Boxing: A Cultural History (2008); G. Kimball and J. Schulian, ed., At the Fights: American Writers on Boxing (2011).
The Columbia Electronic Encyclopedia™ Copyright © 2022, Columbia University Press. Licensed from Columbia University Press. All rights reserved.
The following article is from The Great Soviet Encyclopedia (1979). It might be outdated or ideologically biased.
Boxing
a type of sport; fistfighting between two athletes according to specific rules.
Boxing developed from fistfighting, which existed as a sports contest more than 5,000 years ago in Egypt and Babylon. Such fisticuffs were included in the program of the Olympic Games in ancient Greece. Rules for boxing (without gloves) first appeared at the beginning of the 18th century in England. It was also in England that the first rules for boxing with gloves were established in 1867. The beginning of boxing in Russia dates back to the 1890's. Since 1904 boxing has been included in the program of the modern Olympic Games, and since the 1920's the European Championships have been held.
Boxing matches take place in a ring—a square area 6x6 m in size enclosed by ropes—with contestants who wear soft gloves from 250 to 300 g in weight. A fight lasts for three rounds of three minutes each, with a one-minute interval between rounds. Victory is awarded to the boxer who gains the greater number of points for his successful attacks. A boxer can also win the fight by a knockout, as well as by his opponent's inability to continue the fight, disqualification, or refusal to fight. In boxing it is forbidden to land blows below the belt, on the back of the head, or on the backbone. Butting an opponent with the head or hitting him when he is down is also prohibited. A fight is judged by a referee (a judge within the ring) and by three to five judges outside the ring.
According to the rules adopted in the USSR, boxing matches are conducted for the following age groups: youths 14–15 years old, youths 16–17 years old, young men (juniors) 18–20 years old, and adults (over 21 years of age). Age groups of adults and juniors are, in turn, divided into 11 weight categories: first lightest, up to 48 kg; lightest, up to 51 kg; very light, up to 54 kg; semilight, up to 57 kg; light, up to 60 kg; first semimiddle, up to 63.5 kg; second semimiddle, up to 67 kg; first middle, up to 71 kg; second middle, up to 75 kg; semiheavy, up to 81 kg; and heavy, more than 81 kg.
Soviet boxers began to participate in the Olympic Games in 1952. (Nine boxers from the USSR have won championships.) Soviet boxers have also competed in the European Championships since 1953. (Thirty-four boxers have been champions.)
Among the outstanding Soviet boxers are repeated champions of the USSR V. P. Mikhailov, E. I. Ogurenkov, N. F. Korolev, and S. S. Shcherbakov; European and Olympic champions A. S. Shotsikas, V. N. Engibarian.G. I. Shatkov, O. G. Grigor'ev, B. N. Lagutin, V. V. Popenchenko, D. I. Pozniak, and S. I. Stepashkin; Olympic champion V. S. Sokolov; European champion V. P. Frolov; and others. Among foreign boxers who have appeared in the amateur ring during the 1940's, 1950's, and 1960's, L. Papp (Hungary), J. Torma (Czechoslovakia), Z. Pietrzykowski and J. Kulej (Poland), N. Benvenuti (Italy), C. Clay (Muhammad Ali), J. Frazier, G. Foreman (USA), and others were widely known. In the USSR boxers are members of the Boxing Federation of the USSR, which is included in the International Association of Amateur Boxing (AIBA), created in 1947, and the European Association of Amateur Boxers, founded in 1970, with headquarters in Moscow.
Professional boxing is also widespread in capitalist countries. Its rules allow rougher conduct in a fight, dangerous for the athletes' health. Fewer weight categories are observed, lighter boxing gloves are used, and there are more rounds.
REFERENCES
Gradopolov, K. V. Boks. Moscow, 1965.
Na ringe. Moscow, 1966. (A collection of articles.)
The Great Soviet Encyclopedia, 3rd Edition (1970-1979). © 2010 The Gale Group, Inc. All rights reserved.
boxing
[

′bäks·iŋ

]

(design engineering)

The threaded nut for the screw of a mounted auger drill. Also known as box.

(engineering)

A method of securing shafts solely by slabs and wooden pegs.

(metallurgy)

Continuing a fillet weld around a corner. Also known as end turning.

McGraw-Hill Dictionary of Scientific & Technical Terms, 6E, Copyright © 2003 by The McGraw-Hill Companies, Inc.
boxing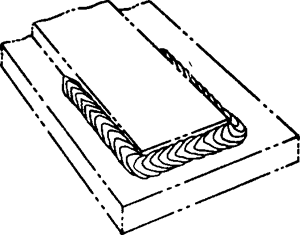 1.
A box-like enclosure or recess at the side of a window frame that receives a
boxing shutter
when the shutter is folded and pulled back.
3. The mixing of paint by pouring it from one can to another.
4.
Continuing a
fillet weld
around a corner of a member as an extension of the principal weld.
McGraw-Hill Dictionary of Architecture and Construction. Copyright © 2003 by McGraw-Hill Companies, Inc.
boxing
a. the act, art, or profession of fighting with the fists, esp the modern sport practised under Queensberry rules
b. (as modifier): a boxing enthusiast
www.ibf-usba-boxing.com
www.wbaonline.com
www.wbcboxing.com
www.ibuboxing.com
www.aiba.net
www.wibf.org
Collins Discovery Encyclopedia, 1st edition © HarperCollins Publishers 2005