flagstone
(redirected from Flagstones)
Also found in:
Dictionary
,
Thesaurus
,
Wikipedia
.
flagstone:
see siltsilt,
predominantly quartz mineral particles that are between sand size and clay size, i.e., between 1-16 and 1-256 mm ( 1-406 – 1-6502 in.) in diameter. Silt, like clay and sand, is a product of the weathering and decomposition of preexisting rock.
.....

Click the link for more information.

.
flagstone
A naturally thin flat stone, normally used as a stepping stone or as outdoor paving; sometimes split from rock that cleaves easily.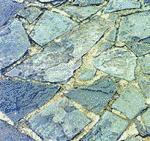 See also: Stone
flagstone
[

′flag'stōn

]

(geology)

A hard, thin-bedded sandstone, firm shale, or other rock that splits easily along bedding planes or joints into flat slabs.

A piece of flagstone used for making pavement or covering the side of a house.
flagstone, flag, flagging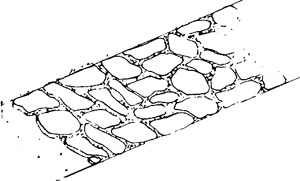 A flat stone, usually 1 to 4 in. (2.5 to 10 cm) thick, used as a stepping-stone or for terrace or outdoor paving; usually either naturally thin or split from rock that cleaves readily; sometimes produced by sawing.
flagstone
, flag

a hard fine-textured rock, such as a sandstone or shale, that can be split up into slabs for paving