Colosseum
(redirected from Flavian Ampitheatre)
Also found in:
Dictionary
,
Thesaurus
.
Colosseum
Colosseum
or
Coliseum
(both: kŏləsēˈəm)
, Ital.
Colosseo,
common name of the Flavian Amphitheater in Rome, near the southeast end of the Forum, between the Palatine and Esquiline hills. Begun by Vespasian, c.A.D. 75, and completed by his son Titus in A.D. 80, it is the most imposing of Roman antiquities. The vast four-storied oval is 617 ft (188 m) by 512 ft (156 m), much of which is still standing; it had tier on tier of marble seats accommodating c.45,000 spectators. It encloses an arena measuring 250 ft (76 m) by 151 ft (46 m) where gladiatorial combats were held (see
gladiators
) until 404. According to tradition, persecuted Christians were thrown there to beasts. The Colosseum has been damaged several times by earthquakes.
Bibliography
See J. Pearson, Arena: The Story of the Colosseum (1974).
The Columbia Electronic Encyclopedia™ Copyright © 2022, Columbia University Press. Licensed from Columbia University Press. All rights reserved.
The following article is from The Great Soviet Encyclopedia (1979). It might be outdated or ideologically biased.
Colosseum
(Amphitheatrum Flavium), a monument of ancient Roman architecture (A.D. 75–80).
The Colosseum is elliptical in plan, about 190 m long and 156 m wide. It includes an arena and four tiers of seats for spectators (about 50,000). The Colosseum was built for gladiatorial fights and other spectacles. Constructed of tufa, it had external walls faced with travertine. Inside, brick and concrete were used for the construction of the arched galleries, and the platforms were covered with marble. The statues and stucco decorations of the Colosseum have not been preserved. Outside, three tiers of arcades (Tuscan, Ionic, and Corinthian orders) and a crowning attic, articulated with flat pilasters, concealed the platforms and the labyrinth of the substructures of the arena. The majestic, grandiose Colosseum, with its powerfully rounded space and the rich plasticity of the arcades, is the most important of the Roman amphitheaters.
REFERENCE
Tsires, A. G. Arkhitektura Kolizeia. Moscow, 1940.
The Great Soviet Encyclopedia, 3rd Edition (1970-1979). © 2010 The Gale Group, Inc. All rights reserved.
colosseum, coliseum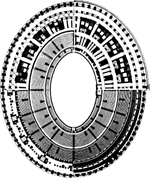 1.
(
cap.
) The Flavian amphitheater in Rome.
2. Any large Roman amphitheater.
3. Now, any large sports arena, open or roofed.
McGraw-Hill Dictionary of Architecture and Construction. Copyright © 2003 by McGraw-Hill Companies, Inc.