floatplane
(redirected from Floatplanes)
Also found in:
Dictionary
,
Thesaurus
.
seaplane
seaplane, airplane designed to take off from and alight on water. The two most common types are the floatplane, whose fuselage is supported by struts attached to two or more pontoon floats, and the flying boat, whose boat-hull fuselage is constructed with the buoyancy and strength necessary to land and float on water. Amphibians may be of either of these types with the addition of landing gear, enabling them to take off from and alight on either land or water. The first practical seaplane was constructed and flown by the American Glenn H. Curtiss in 1911. The seaplane developed rapidly in the 1920s and 30s, and for a time it was the largest and fastest aircraft in the world. Because the flotation structures offered greater resistance to the air than wheel-type landing gear, seaplanes were until recently less efficient and slower for any given horsepower requirement than land-based aircraft. However, developments in small and retractable flotation structures have eliminated that inefficiency and have made possible supersonic jet-powered seaplanes.
The Columbia Electronic Encyclopedia™ Copyright © 2022, Columbia University Press. Licensed from Columbia University Press. All rights reserved.
floatplane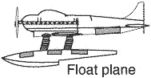 An airplane that has floats to enable it to land and take off from water.
An Illustrated Dictionary of Aviation Copyright © 2005 by The McGraw-Hill Companies, Inc. All rights reserved