Fluorometer
(redirected from Fluorometric)
Also found in:
Dictionary
,
Medical
.
fluorometer
[

flu̇′räm·əd·ər

]

(engineering)

An instrument that measures the fluorescent radiation emitted by a sample which is exposed to monochromatic radiation, usually radiation from a mercury-arc lamp or a tungsten or molybdenum x-ray source that has passed through a filter; used in chemical analysis, or to determine the intensity of the radiation producing fluorescence. Also spelled fluorimeter.

McGraw-Hill Dictionary of Scientific & Technical Terms, 6E, Copyright © 2003 by The McGraw-Hill Companies, Inc.
The following article is from The Great Soviet Encyclopedia (1979). It might be outdated or ideologically biased.
Fluorometer
(also fluorimeter), an instrument used for measuring the decay time τ of fluorescence, which is approximately 10–8–10–9 sec. A fluorometer operates on the following principle. During high-frequency modulated excitation of luminescence, the luminescence is modulated at the same frequency as the excitation; however, because of the finite duration of the luminescence emission, the phase of the luminescence modulation lags behind that of the excitation modulation. In the case of excitation that is sinusoidally modulated at a frequency ω and fluorescence that decays exponentially, the phase angle φ = tan–1 (ωτ). The relation between the amplitude A0 of the excitation modulation and the amplitude A of the luminescence modulation is

. Thus, to determine τ either φ or the ratio A0/A must be measured. If the decay is not exponential, the same method may be used to establish the mean lifetime of the excited state and to estimate the extent to which the decay is not exponential.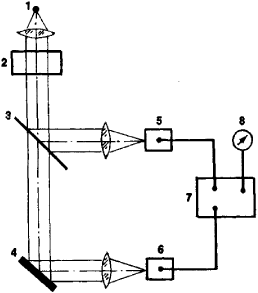 The most widely used fluorometers are phase fluorometers, which measure φ (Figure 1). In an optical-excitation phase fluorometer, a light beam from a source (1) is focused on a modulator (2). A portion of the modulated flux is deflected by a semi-transparent plate (3) and enters a photomultiplier (5). The remainder of the flux is focused on a specimen (4) to excite fluorescence, which is deflected to another photomultiplier (6). The phase difference φ between the photoelectric currents from (5) and (6) is measured by means of a phase meter (7). A cathode-ray tube or phase detector (8) serves as the phase indicator. Fluorometers based on electron-beam and X-ray excitation have also been developed.
In an instrument that is more advanced than a fluorometer, luminescence is excited by short light pulses, and the decay curve is recorded directly.
Instruments that are used for luminescence analysis are also called fluorometers, or fluorimeters. Such instruments measure the intensity of luminescence and contain both a source for exciting the luminescence and a photometer.
The Great Soviet Encyclopedia, 3rd Edition (1970-1979). © 2010 The Gale Group, Inc. All rights reserved.