four-stroke cycle
(redirected from Four cycle engine)
four-stroke cycle
[

¦fȯr ¦strōk ′sī·kəl

]

(mechanical engineering)

An internal combustion engine cycle completed in four piston strokes; includes a suction stroke, compression stroke, expansion stroke, and exhaust stroke.

McGraw-Hill Dictionary of Scientific & Technical Terms, 6E, Copyright © 2003 by The McGraw-Hill Companies, Inc.
four-stroke cycle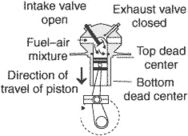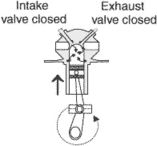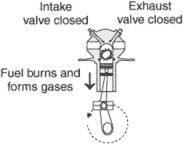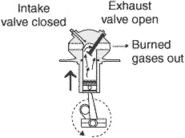 The sequence of operations by which a reciprocating engine converts heat energy into mechanical energy. During the induction strokes, the fuel-air mixture is inducted into the engine. During the compression stroke, the mixture is compressed. The power stroke follows, during which the mixture is ignited and the resultant rapid increase in pressure drives the piston downward. The exhaust stroke is last, during which the products of combustion are ejected.
An Illustrated Dictionary of Aviation Copyright © 2005 by The McGraw-Hill Companies, Inc. All rights reserved