painter
(redirected from Fractal Design Painter)
Also found in:
Dictionary
,
Thesaurus
,
Acronyms
.
painter,
animal: see pumapuma
or cougar
, New World member of the cat family, Puma concolor. Also known as mountain lion, catamount, panther, and painter, it ranges from S British Columbia to the southern tip of South America. The puma is slenderly built, with a lionlike face.
.....

Click the link for more information.

.
Painter
A craftsperson skilled in the preparation and application of paint, lacquer, and varnishes to wood, plaster, and other surfaces.
painter
[

′pānt·ər

]

(meteorology)

A fog frequently experienced on the coast of Peru; the brownish deposit which it often leaves upon exposed surfaces is sometimes called Peruvian paint. Also known as Callao painter.
painter
Nautical a line attached to the bow of a boat for tying it up
Painter
A full-featured paint program for Macintosh and Windows from Corel. Part of Corel's illustration and design line of products, Painter is the most sophisticated paint program on the market with an array of tool palettes that is simply remarkable. It can simulate natural painting styles, such as oil, watercolor and charcoal, on almost every kind of paper texture. Painter's packaging used to be as unique as the product... a paint can! In 2000, Corel acquired Painter from MetaCreations Corporation, Carpenteria, CA (formerly Fractal Design Corporation).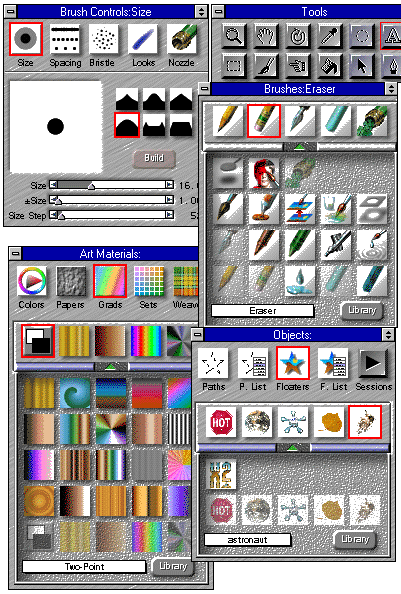 An Electronic Paintbox
Painter offers the most amazing variety of painting tools on the market. You can fine tune your brushes, felt pens, ink pens and chalk and even simulate different types of paper. The number of settings is staggering, and the tools shown here offer only a glimmer of this program's amazing repertoire.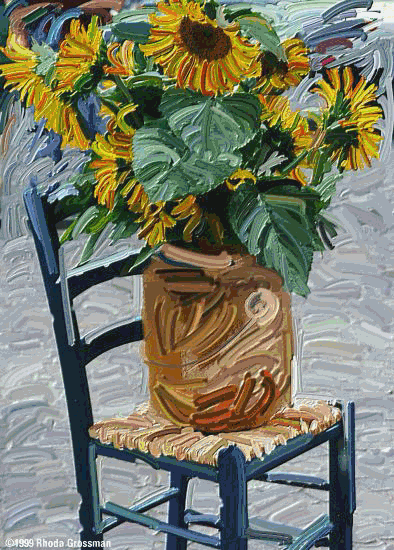 Oil or Pixels?
Believe it or not, this "oil" was created in Painter 5 on the Macintosh by Rhoda Grossman using brush strokes with Painter's Van Gogh cloner. Named "Clo-nay, France," the impasto look (thick paint) was accomplished with Painter's Apply Surface Texture command. (Image courtesy of Rhoda Grossman, www.digitalpainting.com)