Framing
Also found in:
Dictionary
,
Thesaurus
,
Medical
,
Idioms
,
Wikipedia
.
framing
[

′frām·iŋ

]

(building construction)

(electronics)

Adjusting a television picture to a desired position on the screen of the picture tube.

Adjusting a facsimile picture to a desired position in the direction of line progression. Also known as phasing.

(mining engineering)
Framing
A system of rough timber structural woodwork that is joined together in order to support or enclose, such as partitions, flooring and roofing.
Framing
a system of beams supporting the inner and outer plating of a ship's hull and forming its skeleton. The frame, which is welded or riveted to the plating, forms the basic coverings of a ship (the bottom, decks, sides, bulkheads, platforms, recesses). Together with other connections, it provides stability of a ship's hull, both general (of the entire hull as a built-up hollow beam) and local (of separate coverings, beams, and plates); it serves as an index contour for the plating of the ship coverings; and it transmits to the supporting structures the loads received by the coverings.
Simple and built-up beams set at right angles to the hull form a transverse frame, those along the length of the hull form a longitudinal frame, and those set along transverse bulkheads form vertical and horizontal frames. A distinction is made among transverse, longitudinal, combined, and cellular systems of framing, depending on the direction of the majority of the beams of the frame (that is, the principal-direction beams).
Transverse framing beams that support the bottom plating are called floors, those supporting the side plating are called frames, and those supporting the decks are called beams. A frame, floor, and beam located in the same plane and connected by knees form a rib frame; the distance between adjacent rib frames is called the spacing. Frames and beams with larger cross sections, installed every few spacings, are called deep (or web) frames. Longitudinal framing beams, which support the shell plating and decking, are called longitudinal stiffeners, and reinforced, or web-type, longitudinal members are called stringers (along the bottom and side) and carlings, or deck girders (along the deck). Longitudinal stiffeners connected by knee plates to the vertical or horizontal stanchions and shelfs of the transverse bulkheads form the vertical or horizontal longitudinal frames. At the ends of the ship (in the bow and stern sections), the framing is secured at the bow and the stern, the structures that enclose the hull.
REFERENCE
Barabanov, N. V. Konstruktsiia korpusa morskikh sudov, 2nd ed. Leningrad, 1969.
framing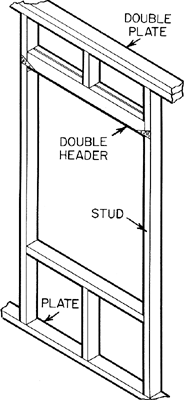 1. A system of structural woodwork.
2. The rough timber structure of a building, such as partitions, flooring, and roofing.