Francesco Borromini
Also found in:
Dictionary
,
Wikipedia
.
Francesco Castelli
Birthday
Birthplace
Bissone, Ticino, Old Swiss Confederacy
Died
Borromini, Francesco
Borromini, Francesco
(fränchāˈskō bōr-rōmēˈnē)
, 1599–1677, major Italian baroque architect. His first independent commission (begun 1634) was San Carlo alle Quattro Fontane, Rome, one of the masterpieces of the Roman baroque. The church is noted for its undulating rhythm of architectural elements within a basically geometric plan. In 1642 he began the designs for Sant' Ivo della Sapienza, Rome, a dynamic hexagonal structure. He was also entrusted with the reconstruction of St. John the Lateran, as well as the completion of Sant' Agnese in the Piazza Navona and Sant' Andrea della Fratte. Borromini's innovations in palace as well as church design had a tremendous influence in Italy and northern Europe.
Bibliography
See studies by A. Blunt (1979) and Connors (1980).
The Columbia Electronic Encyclopedia™ Copyright © 2022, Columbia University Press. Licensed from Columbia University Press. All rights reserved.
Borromini, Francesco
(1599–1677)

Italian Baroque architect who designed San Carlo Alle Quattro Fontane (Illus), in Rome, in 1638 to 1671, a church in which convex and concave wall surfaces are juxtaposed both on the facade and on the interior.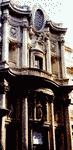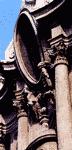 Illustrated Dictionary of Architecture Copyright © 2012, 2002, 1998 by The McGraw-Hill Companies, Inc. All rights reserved
The following article is from The Great Soviet Encyclopedia (1979). It might be outdated or ideologically biased.
Borromini, Francesco
(or F. Borromino, pseudonym of F. Castelli). Born Sept. 25, 1599, in Bissone, Switzerland; died Aug. 3, 1667, in Rome. Italian architect.
Borromini went to school in Milan. His architecture was an expressive realization and original resolution of the principles of the Baroque period (above all, a concept of the dominance of irrational forces, typical of the Baroque Weltanschauung). Borromini's works are distinguished by spatial mobility and the restless dynamics of elastic forms, which at times deprive the buildings of plastic wholeness. Borromini made free use of the classic order; typical of his constructions are curvilinear outlining of volumes, curved walls, varied combinations of convex and concave forms, and sharpened silhouettes of the crowning parts. With unrestrained imagination, Borromini created new decorative details and complicated construction plans. He designed the churches of San Carlo alle Quattro Fontane (1634–67), San Ivo alla Sapienza (1642–60), and Sant'Andrea delle Fratte (1656; facade, 1816); the facade of the Church of Santa Ag-nese in the Piazza Navona (1653–55); the Oratorio dei Filippine (1637–62); the Falconieri Palace (1639–41) and the Barberini Palace (1625–63; jointly with C. Maderna and L. Bernini); and other buildings in Rome. He enlarged Villa Falconieri in Frascati.
REFERENCE
Portoghesi, P. Borromini nella cultura europea. Rome, 1964.
The Great Soviet Encyclopedia, 3rd Edition (1970-1979). © 2010 The Gale Group, Inc. All rights reserved.