Frank Lloyd Wright
Also found in:
Dictionary
,
Thesaurus
,
Medical
,
Acronyms
,
Wikipedia
.
Frank Lloyd Wright
Frank Lincoln Wright
Birthday
Birthplace
Richland Center, Wisconsin
Died
Nationality
American
Wright, Frank Lloyd
Wright, Frank Lloyd,
1867–1959, American architect, b. Richland Center, Wis., as Frank Lincoln Wright; he changed his name to honor his mother's family (the Lloyd Joneses). Wright is widely considered the greatest American architect. After studying civil engineering at the Univ. of Wisconsin, he worked for seven years in the office of Dankmar Adler and Louis H.
Sullivan
in Chicago.
The Prairie Style
Wright's first independent commission was the Winslow residence (1893) in River Forest, Ill. Establishing himself in Oak Park, Ill., he built a series of residences with low horizontal lines and strongly projecting eaves that echoed the rhythms of the surrounding landscape; it was termed his prairie style. The most famous examples are located in Chicago and its suburbs; they include the Willitts house (1900?–1902), Highland Park; the Coonley house (1908), Riverside; and the Robie house (1909), Chicago.
Innovative Techniques and Styles
From the beginning Wright practiced radical innovation both as to structure and aesthetics, and many of his methods have since become internationally current. At a time when poured reinforced concrete and steel cantilevers were generally confined to commercial structures, Wright did pioneer work in integrating machine methods and materials into a true architectural expression. He was the first architect in the United States to produce open planning in houses, in a break from the traditional closed volume, and to achieve a fluidity of interior space by his frequent elimination of confining walls between rooms. For the Millard house (1923) at Pasadena, Calif., he worked out a new method, known as textile-block slab construction, consisting of double walls of precast concrete blocks tied together with steel reinforcing rods set into both the vertical and the horizontal joints.
Important Works
The Larkin Office Building (1904; destroyed 1950), Buffalo, and Oak Park Unity Temple (1908), near Chicago, were early monumental works that exerted wide influence. Among other notable works are the Imperial Hotel (1916–22; demolished 1968; partially reconstructed, Meiji Mura Mus., Inuyama, Japan), Tokyo, Japan, which withstood the effects of the 1923 earthquake; the Midway Gardens (1914; destroyed 1923), Chicago; and Wright's own residence "Taliesin" (1911; twice burned and rebuilt) at Spring Green, Wis. Among his later projects were "Taliesin West" (1936–59), Scottsdale, Ariz. (which has continued since his death as a school of architecture); the Johnson administration building (1936–39; research tower, 1950), Racine Wis.; and the house for Edgar Kaufmann, "Fallingwater" (1936–37), Bear Run, Pa., which is dramatically cantilevered over a waterfall.
After World War II, Wright continued a large and ever-inventive practice until his death. He created dynamic interior spaces with spiral ramps for the V. C. Morris Gift Shop (1948–49), San Francisco, and for the Solomon R. Guggenheim Museum (1946–59), New York City. Other notable later buildings include a Unitarian church (1947), Madison, Wis.; the Price Tower (1955), Bartlesville, Okla.; and Beth Sholom Synagogue (1959), Elkins Park, Pa. He left numerous unrealized projects, including one for a mile-high skyscraper ("The Illinois") for Chicago and an ambitious design for a civic center in Madison, Wis. The latter was later reconceived as the Monona Terrace Community and Convention Center and opened in 1997.
Writings and Bibliography
Wright's architectural philosophy was expressed in his lectures and writings. Among them are On Architecture (1941); When Democracy Builds (1945); Genius and the Mobocracy (1949, enl. ed. 1971), an evaluation of his master Louis H. Sullivan; The Future of Architecture (1953); An American Architecture (1955); and A Testament (1957). His influence can be seen throughout Europe. Volumes illustrative of his works were published in France and Germany as early as 1910. In 1995 about 5,000 of his architectural drawings were published in CD-ROM form as Frank Lloyd Wright: Presentation and Conceptual Drawings.
See complete catalog of his buildings by W. A. Storrer (upd. 3d ed. 2007); his autobiography (enl. ed. 1977); biographies by F. Farr (1961), I. Lloyd Wright, his daughter (1962), O. Lloyd Wright, his third wife (rev. ed. 1970), R. C. Twombly (1973), M. Secrest (1992), A. L. Huxtable (2004), and P. Hendrickson (2019); studies by H. R. Hitchcock (1942, repr. 1973); V. Scully (1960), P. Blake (rev. ed. 1964), H. A. Brooks (1972), D. L. Johnson (1990), and D. Hoffmann (1995); W. A. Storrer, The Frank Lloyd Wright Companion (1994); bibliography by R. L. Sweeney (1978).
The Columbia Electronic Encyclopedia™ Copyright © 2022, Columbia University Press. Licensed from Columbia University Press. All rights reserved.
Wright, Frank Lloyd
(1867–1959)

Originator of the Organic style, as demonstrated in many innovative works. Unity Temple, Oak Park (illus.), IL (1906), was a concrete church with a complex interior space on several levels. The Millard House, Pasadena, CA (1923), was built of decorative precast concrete blocks. His masterpiece residence, Fallingwater, Bear Run, PA (1937), was cantilevered out over a waterfall in horizontal sections. It was not unlike the European International style in elevation but was three-dimensional in actuality. The Johnson Wax Building, Racine, WI (1937), features the innovative use of materials, such as glass tubes for skylights. He built a second home, office, and school in the desert at Taliesin West (illus.), Scottsdale, AZ (1938). The Guggenheim Museum, (illus.), New York City (1943–1960), is one of his best-known works, with the exterior expressing the interior arrangement of the spiral ramp display area. A third period provided architectural forms based on geometric shapes, such as hexagons, octagons, circles, and arcs. He designed more than 400 buildings and an equal number of unrealized projects.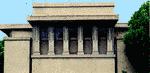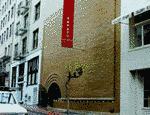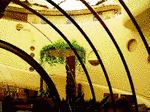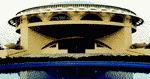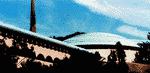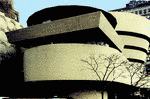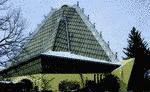 Illustrated Dictionary of Architecture Copyright © 2012, 2002, 1998 by The McGraw-Hill Companies, Inc. All rights reserved
The following article is from The Great Soviet Encyclopedia (1979). It might be outdated or ideologically biased.
Wright, Frank Lloyd
Born June 8, 1869, in Richland Center, Wis., died Apr. 9, 1959, at Taliesin West, Ariz. American architect; founder and leading exponent of the school of organic architecture.
Wright, who did not complete his professional education, worked in Chicago for the architects J. L. Silsbee (1887) and L. Sullivan (from 1888). Sullivan's influence upon Wright was decisive. However, even in Wright's earliest buildings the symmetry characteristic of his teacher was given an expressive romantic treatment (Charnley House, Chicago, 1891).
The romantic tendencies in Wright's work increased after 1893, when he began to work independently, and became especially strong after 1900, with his series of "prairie houses." Outstanding among these are the Willitts House in Highland Park, 111. (1902), and the Robie House in Chicago (1909), in which Wright, inspired by Japanese architecture, for the first time employed a unified system of "interflowing" interior spaces. The interiors are linked with the surrounding environment by means of overhanging roofs, terraces, loggias, and unin-terrrupted horizontal strips of windows. Wright integrated architectural form with the landscape, revealing structural devices and the specific properties of building materials. Elements of Wright's prairie style also appear in his larger buildings of the early 20th century, such as the Larkin Building in Buffalo (1905) and the Imperial Hotel in Tokyo (1916–22; razed in the 1960's).
An exhibition of Wright's designs in Berlin in 1910 greatly influenced the subsequent development of European architecture. Yet in the United States, Wright's work failed to win recognition until the end of the 1930's.
In the early 1920's, Wright used concrete blocks as his principal building material, rhythmically articulating his facades with the repetition of standard elements (for example, the Millard House in Pasadena, Calif., 1923). In the 1930's he became a leading exponent of architecture as a link connecting man and nature—in opposition to the conformist and technical tendencies of functionalism. Wright's archetypal work of this period was the Kaufmann House ("Falling Water") in Bear Run, Pa. Its boldly projecting overhangs extend beyond the edge of cliffs over a forest stream.
Following analogies with natural forms, Wright created "treelike" high-rise structures, with concrete "trunks" to accommodate vertical service cores and with cantilevered floors extending from the trunks like "branches" (Laboratory Tower, Racine, Wis., 1949; Price Tower, Bartlesville, Okla., 1956).
In a number of structures built between the 1930's and 1950's, Wright abandoned the principle of rectangularity and organized space on the basis of circles, spirals, and 60° and 120° angles (for example, the Hanna House, Palo Alto, Calif., 1937). This series of experiments culminated in the design for the Guggenheim Museum in New York (designed 1943–46; constructed 1956–59), whose main interior space is given form by a spiral ramp around a central well topped by a skylight dome. The unbroken, "flowing" form of the exterior echoes the wholeness of the interior space.
Wright's views as a theoretician of deurbanism were given expression in his design for Broadacre City (1935), which provided for the complete integration of urban construction and the landscape.
Wright's work was a direct link between the achievements of late-19th-century and mid-20th-century architecture. While remaining faithful to the sentimental dream of a life amid nature and seeking possibilities to humanize man's existence according to the principles of organic architecture, Wright was also one of the founders of rationalism in modern architecture. On a sociophilosophical level, Wright's humanism was combined with an individualism, often in the spirit of F. Nietzsche, that was aimed more at freeing the individual from society than at guaranteeing freedom within society.
WORKS
An Organic Architecture, the Architecture of Democracy. London, 1939.
On Architecture: Selected Writings. New York(1941).
An Autobiography. New York, 1943.
The Future of Architecture. New York, 1953.
American Architecture. New York, 1955.
A Testament. New York, 1957.
The Living City. New York, 1958.
In Russian translation:
Budushchee arkhitektury. Moscow, 1960.
REFERENCES
Gol'dshtein, A. F. Frank LloidRait. Moscow, 1973.
Hitchcock, H. R. In the Nature of Materials. New York, 1942.
Zevi, B. Frank Lloyd Wright, 2nd ed. Milan, 1954.
Scully, V. J. Frank Lloyd Wright. New York [I960].
The Great Soviet Encyclopedia, 3rd Edition (1970-1979). © 2010 The Gale Group, Inc. All rights reserved.
Wright, Frank Lloyd
(1867–1959) architect; born in Richland Center, Wis. His irregular education included briefly studying civil engineering at the University of Wisconsin. After five years in Louis Sullivan's office he started his own Chicago practice (1893). Wright's early work spearheaded the Prairie School; he designed houses influenced by the Arts and Crafts movement and characterized by horizontal lines, overhanging roofs, asymmetrical composition, and use of regional materials (Ward Willits House, Highland Park, Ill. (1902); Taliesin, Spring Green, Wis. (1911)). Two Berlin publications of his work (1910–11) spread his influence to Europe. The second phase of his career (1918–36) saw only one major building, the Imperial Hotel, Tokyo (1916–22). Finding little work during the Great Depression, Wright designed experimental projects, lectured widely, published his Autobiography (1932), and established the Taliesin Fellowship, a program under which he was to train numerous young architects at Taliesin West. In his prolific third phase (1936–59), Wright designed many of his most famous buildings (Falling Water, Bear Run, Pa. (1936); the Guggenheim Museum, New York (1943–46, 56–59); Taliesin West, Scottsdale, Ariz. (begun 1938)), and developed the compact, "Usonian" house. A gifted designer—he designed most of the interior details and even the furniture of many of his projects—Wright was uniquely influential through his love of natural textures (he favored unplaned wood and rough-quarried stone), mastery of organic architecture that, as he said, "develops from within outward," and conception of architectural space and open planning. Autocratic, opinionated, often infuriating, he never saw some of his more grandiose visions—such as a mile-high building—beyond the drawing board; but even his drawings came to be treasured as works of art. He received the American Institute of Architects' Gold Medal (1949).