French Colonial architecture
(redirected from French Colonial)
Also found in:
Wikipedia
.
French Colonial architecture
A style developed by the French colonists in America, particularly in New Orleans from 1700 onward, which featured a symmetrical facade with a porch reached by steps and a projecting roof across the entire front and sometimes around the sides, and wrought-iron balconies extended over the sidewalk. They typically had high steeply pitched roofs, decorated with ornamental finials at each end of the roof ridge.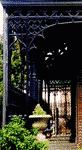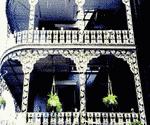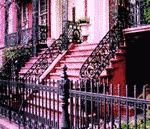 Illustrated Dictionary of Architecture Copyright © 2012, 2002, 1998 by The McGraw-Hill Companies, Inc. All rights reserved
French Colonial architecture
A term descriptive of architecture developed by French colonists in New Orleans and the Louisiana Territory from about 1699 onward. Their architecture persisted until about 1830—many years after the territory was no longer French. French Colonial architecture usually characterized by a
raised basement
used for utility or commercial purposes; a symmetric façade with a centrally located front door; a porch (
galerie
); typically, a steeply pitched hipped roof,
pavilion roof
, or a shingle-covered
bonnet roof
supported by wood posts and/or brick columns; a brick chimney. In New Orleans, wrought-iron balconies, surrounding the upper stories and extending over the sidewalk; French doors, with battened or paneled shutters; transom lights or fanlights above the front doors of the more elegant homes. Also see
Cajun cottage, Creole architecture, Creole house, plantation house, raised house
. (For a description of architecture that exhibits the strong ethnic influences of the immigrant populations of the Acadians and the Creoles, see
French Vernacular architecturge
.)
McGraw-Hill Dictionary of Architecture and Construction. Copyright © 2003 by McGraw-Hill Companies, Inc.