French Second Empire style
Also found in:
Dictionary
,
Thesaurus
.
French Second Empire style
(1860–1875)

Called "mansard" for its characteristic roof, similar to the Louvre in Paris; its height was emphasized by elaborate chimneys, dormer windows, and circular windows protruding from the roof. In residences, frequently of wood, the style was asymmetrical and included porches and towers.

Illustrated Dictionary of Architecture Copyright © 2012, 2002, 1998 by The McGraw-Hill Companies, Inc. All rights reserved
Second Empire style in the United States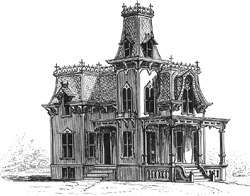 A grand, eclectic architectural style from about 1855 to 1890 and beyond, primarily in public buildings but also in domestic architecture; named after the French Second Empire of Napoleon III (1852–1870); frequently called
Mansard style
because it features a
mansard roof
usually having the profile of a compound curve. Buildings in this style usually are characterized by the following attributes: a central one-story pavilion projecting outward from a façade; classical pediments with elaborate heavy detailing and trim; often, a heavy cornice, typically supported by decorative brackets; commonly, a square tower located at the center of the façade; pedimented dormers;
terneplate
or multicolored slates forming decorative patterns covering the roof; a curb or railing around the roof, commonly enclosed with decorative metalwork cresting; windows having an upper sash divided in two parts by a vertical secondary framing member, over a similar lower sash; pedimented, bracketed, or hooded windows usually having square or arched heads; tall, almost floor-to-ceiling windows on the first floor; a pair of paneled entry doors having glass in the upper panels; frequently, arched doorways; usually, steps leading from the street up to the level of the doorway. Also called
General Grant style
or Second Empire Baroque.
McGraw-Hill Dictionary of Architecture and Construction. Copyright © 2003 by McGraw-Hill Companies, Inc.