château
(redirected from French castles)
Also found in:
Dictionary
,
Thesaurus
.
château
(shătō`, Fr. shätō`)

, royal or seignioral residence and stronghold of medieval France—the counterpart of the English castlecastle,
type of fortified dwelling characteristic of the Middle Ages. Fortification of towns had been in practice since antiquity, but in the 9th cent. feudal lords began to develop the private fortress-residence known as the castle.
.....

Click the link for more information.

of the period. In such a fortress, peasants of the surrounding country took refuge during time of war. The early fortified château, called a château-fort, reached its culmination in the late 15th cent., when the magnificent feudal Pierrefonds was built near Compiègne. The 16th-century château, with its gardens and outbuildings, was usually surrounded by a moat, but was only lightly fortified. Notable châteaus of the transition period between the military château and the later country estate with extensive landed property are those of the Loire, Indre, and Cher valleys, such as Chambord, Amboise, Blois, Chenonceaux, Azay-le-Rideau, and Chaumont.
Bibliography
See study by F. Gébelin (tr. 1964).
The Columbia Electronic Encyclopedia™ Copyright © 2013, Columbia University Press. Licensed from Columbia University Press. All rights reserved.
www.cc.columbia.edu/cu/cup/
Chateau
A castle or imposing country residence of nobility in old France; any large country estate.
Illustrated Dictionary of Architecture Copyright © 2012, 2002, 1998 by The McGraw-Hill Companies, Inc. All rights reserved
château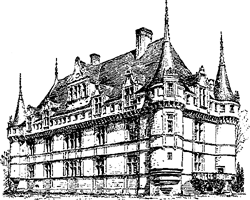 1.A castle or imposing country residence of nobility in old France.
2. Now, any French country estate.
McGraw-Hill Dictionary of Architecture and Construction. Copyright © 2003 by McGraw-Hill Companies, Inc.
chateau
, château

1. a country house, castle, or manor house, esp in France

2. (in Quebec) the residence of a seigneur or (formerly) a governor

3. (in the name of a wine) estate or vineyard

Collins Discovery Encyclopedia, 1st edition © HarperCollins Publishers 2005