Fresnel Lens
(redirected from Frensel lens)
Also found in:
Dictionary
,
Thesaurus
,
Medical
.
Fresnel lens
[

frā′nel ′lenz

]

(optics)

A thin lens constructed with stepped setbacks so as to have the optical properties of a much thicker lens.
Fresnel Lens
a complex compound lens used in lighthouse and signal beacons. It was proposed by A. J. Fresnel. The lens does not consist of a single polished piece of glass with spherical or other surfaces like conventional lenses but instead is made of a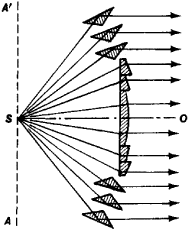 succession of individual, thin concentric rings, which in cross section have the shape of a special type of prism (see Figure 1). Such a design gives the Fresnel lens very low thickness, and therefore also very low mass, even for a large coverage angle. The sections of the rings are such that the spherical aberration of the Fresnel lens is slight and beams of light from point source S placed in the focus of the lens emerge, after refraction in the rings, in a practically parallel beam (in ring-type Fresnel lenses).
There are two types of Fresnel lenses: ring and belt. The ring-type (circular) lens is the system obtained by rotating the type shown in Figure 1 around optical axis SO; these lenses direct the stream of light in one particular direction. Belt-type (cylindrical) Fresnel lenses are obtained by rotating the type shown in Figure 1 around axis ASA', perpendicular to SO; they propagate light from the source in all horizontal directions. The diameters of Fresnel lenses range from 10–20 cm to several meters.
Fresnel lens
In lighting, a lens that concentrates light from a small source such as an incandescent filament; similar to but thinner and lighter than a plano-convex lens owing to steps on the convex side; used in many types of luminaires, esp. downlights and spotlights.