Gabriels Reaction
The following article is from The Great Soviet Encyclopedia (1979). It might be outdated or ideologically biased.
Gabriels Reaction
a method of synthesizing primary amines by treating organic halogen compounds with potassium phthalimide (I) and then hydrolyzing the resultant N-substituted phthalimide (II):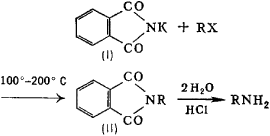 Hydrolysis is effected by heating with alkalies, acids, or hydrazine hydrate. Gabriel's reaction is a convenient method for preparing individual primary amines and is widely used in the laboratory and in the chemical and pharmaceutical industry (for example, in synthesizing pilocarpine). Gabriel's reaction was discovered in 1887 by the German chemist S. Gabriel.
The Great Soviet Encyclopedia, 3rd Edition (1970-1979). © 2010 The Gale Group, Inc. All rights reserved.