garage
(redirected from Garage rock)
Also found in:
Dictionary
,
Thesaurus
,
Financial
,
Wikipedia
.
garage
1. a building or part of a building used to house a motor vehicle
2. a commercial establishment in which motor vehicles are repaired, serviced, bought, and sold, and which usually also sells motor fuels
Collins Discovery Encyclopedia, 1st edition © HarperCollins Publishers 2005
Garage
A building or portion of a residence where motor vehicles are kept; a place for repairing and maintaining vehicles. Also see Parking garage.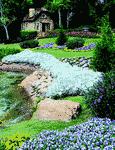 Illustrated Dictionary of Architecture Copyright © 2012, 2002, 1998 by The McGraw-Hill Companies, Inc. All rights reserved
The following article is from The Great Soviet Encyclopedia (1979). It might be outdated or ideologically biased.
Garage
a building or a complex of buildings and installations for the parking, servicing, and routine repairs of the rolling stock of motor-vehicle transportation.
The garage as a new type of architectural installation appeared in the first half of the 20th century with the beginning of the mass production of automobiles. Garages are built for trucks, passenger cars, specialized automobiles (such as sanitation and fire trucks), buses, and mixed parking, including motorcycles and motorscooters. In the USSR the nature of garage construction, as well as of garage equipment, is determined by the organization on a statewide scale of general-use motor-vehicle transportation for the movement of freight and passengers; the concentration of motor vehicles in large motor-vehicle transportation enterprises, which makes it possible to specialize them according to the nature of their transportation work and to mechanize the processes of the servicing of motor vehicles; and a system of planned and preventive service and repair.
A distinction is made among parking garages, which provide parking for motor vehicles and do simple daily-maintenance operations (for example, inspection, filling, and washing), and complex garages, which in addition do preventive and repair operations on technical servicing and routine repairs of motor vehicles, including the replacement of some parts and units. Such complex garages have three main production zones: storage, maintenance, and repair.
According to their location with respect to ground level, garages are divided into aboveground, semiunderground, and underground categories. Combined constructions, in which one or more floors of the garage are below ground level and the other floors are aboveground, are often found. As a rule, truck and bus garages have one floor. The space and volume designs of most types of garages are close to those of buildings of industrial architecture, which use roofs with a large span or roofs that are unsupported or that have a small number of supports. For the vertical movement of motor vehicles, multistory garages use straight or curved ramps, half-ramps (when one part of the garage is at a height half a floor different from that of the other parts), and inclined floors in combination with various types of ramps or without them, as well as mechanical hoists and various types of elevators (shaft elevators, continuous-action elevators, and circular hoists). In addition to heated and multistory garages, so-called stacked garages are often built in regions with a warm, dry climate; they are unheated and without walls. The ramps and the types of walls (barriers, grill fences, ribbing glass, and so on) give the garage building a specific architectural appearance.
The capacity of garages varies within great limits: from one-place boxes or box blocks to multistory installations designed for 300, 1,000, or more vehicles. Small-capacity garages include installations for up to 50 vehicles; medium-capacity, for 50-300 vehicles; and high-capacity, for more than 300 vehicles. The concentration of large numbers of vehicles in cities makes the construction and planned distribution of garages part of the general architectural and city-planning problems.
REFERENCES
Davidovich, L. N. Proektirovanie predpriiatii avtomobil'nogo transporta. Moscow, 1967.
Baker, G. H., and B. Funaro. Parking. New York, 1958.
Sill, O. Parkbauten. Wiesbaden-Berlin, 1968.

G. E. GOLUBEV and M. M. SHAKHNES
The Great Soviet Encyclopedia, 3rd Edition (1970-1979). © 2010 The Gale Group, Inc. All rights reserved.
What does it mean when you dream about a garage?
Dreaming about a garage can have variable meanings, depending on how one utilizes her or his garage. Is it a tool shed and hobby room, or just a place to park the car? In general, the garage refers to one's reserves of energy and motivation.
The Dream Encyclopedia, Second Edition © 2009 Visible Ink Press®. All rights reserved.
garage
1. Building or part thereof where motor vehicles are kept.
McGraw-Hill Dictionary of Architecture and Construction. Copyright © 2003 by McGraw-Hill Companies, Inc.
Garage
(dreams)

This is an interesting symbol and many people have requested that it be added to the dictionary. Traveling is very common theme in dreams and traveling in a car is the most common. Traveling in a vehicle generally can represent our journey through life—or a portion of our life's journey. Finding yourself in a garage or a parking lot can be interpreted in several different ways. First, consider the content of your dream and your current dilemma or situation in life. The parked car could represent a period of inactivity and indecision in your life. The dream could be pointing out that you have been idle for a period of time and that it may be a good time to "get a move on." The more positive interpretation of this dream may be that the parked car is symbolic of a reflective period or mood. You may be in "park" for a while so that you can rest, relax, regroup, and think things over.

Bedside Dream Dictionary by Silvana Amar Copyright © 2007 by Skyhorse Publishing, Inc.