gargoyle
(redirected from Gargolyes)
Also found in:
Dictionary
,
Thesaurus
.
gargoyle
(gär`goil)

, waterspout used in medieval Europe to draw rainwater from church and cathedral roofs. Gargoyles were fashioned imaginatively in the form of human grotesques, beasts, and demonic spirits. This form of sculpture reached its peak in the Gothic period and declined with the introduction of lead drainpipes in the 16th cent.
Gargoyle
A spout carrying water from the roofs above, frequently carved with grotesque figures or animals with open mouths, from which water is discharged away from the building's walls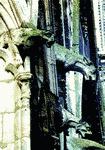 gargoyle

A waterspout projecting from the roof gutter of a building, often carved grotesquely.
gargoyle
1. a waterspout carved in the form of a grotesque face or creature and projecting from a roof gutter, esp of a Gothic church
2. any grotesque ornament or projection, esp on a building
Gargoyle
A language for compiler writing.

[J.V. Garwick, CACM 7(1):16-20, (Jan 1964)].