Geographic Information System
Also found in:
Dictionary
,
Medical
,
Financial
,
Acronyms
,
Wikipedia
.
Geographic Information System
(application)

(GIS) A computer system for capturing, storing, checking, integrating, manipulating, analysing and displaying data related to positions on the Earth's surface. Typically, a GIS is used for handling maps of one kind or another. These might be represented as several different layers where each layer holds data about a particular kind of feature (e.g. roads). Each feature is linked to a position on the graphical image of a map.

Layers of data are organised to be studied and to perform statistical analysis (i.e. a layer of customer locations could include fields for Name, Address, Contact, Number, Area). Uses are primarily government related, town planning, local authority and public utility management, environmental, resource management, engineering, business, marketing, and distribution.

GIS dictionary.

http://ncl.ac.uk/~ngraphic/wotzagis.html.

This article is provided by FOLDOC - Free Online Dictionary of Computing (foldoc.org)
GIS
(1) (Geographic Information System) An information system that deals with spatial information. Also called "mapping software," it links attributes and characteristics of an area to its geographic location. A GIS is used in a variety of applications, including exploration, demographics, dispatching, tracking and map making. Using satellites and aerial photography, the U.S. Geological Survey and other organizations have developed digital maps of most of the world and continue to update them. Unlike paper maps, digital maps can be combined with layers of information. See digital elevation model and GIS glossary.

(2) (Generalized Information System) An early IBM mainframe query and data manipulation language.
---
GIS glossary
The GIS terms under the entries GIS glossary: a-g and GIS glossary: h-t are condensed and reproduced with permission from "A Practitioner's Guide to GIS Terminology" by Stearns J. Wood. Compiled over 30 years and first published in 1984, the book contains more than 10,000 terms embracing all aspects of geoprocessing and geoanalysis, spatial and network analysis, resource management, facilities management, automated mapping, computer-aided design and drafting, database management systems, open systems connectivity and geographic information system computer technology. Selected terms from geography, cartography, computer science, urban and regional information systems, remote sensing and GPS are also included. See GIS glossary: a-g and GIS glossary: h-t.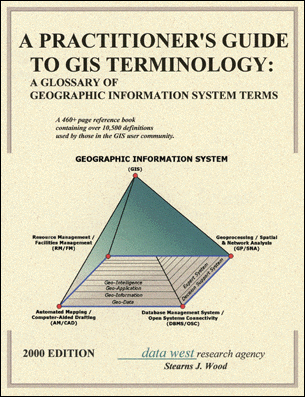 The Source
This "must-have" resource is available from Data West Research Agency. For more information, visit www.gisdatawest.com.
Copyright © 1981-2019 by The Computer Language Company Inc. All Rights reserved. THIS DEFINITION IS FOR PERSONAL USE ONLY. All other reproduction is strictly prohibited without permission from the publisher.