Gibbs surround
Gibbs surround
The surrounding trim of a doorway or window, consisting of alternating large and small blocks of stone, like quoins. These are often connected with a narrow raised band along the face of the door, window, or arch.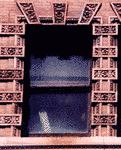 Illustrated Dictionary of Architecture Copyright © 2012, 2002, 1998 by The McGraw-Hill Companies, Inc. All rights reserved
Gibbs surround
The framing of a door or window by a head composed of a (usually triple) keystone and by jambs that are bordered by protruding rectangular blocks of stone.
McGraw-Hill Dictionary of Architecture and Construction. Copyright © 2003 by McGraw-Hill Companies, Inc.