Ethernet switch
(redirected from Gigabit Ethernet switch)
Ethernet switch
A "central hub" wired to every computer and network device in an Ethernet. In the home and small office, an Ethernet switch is built into the router (see wireless router).

10/100 and 10/100/1000
Gigabit Ethernet (10/100/1000) switches support 1 Gbps and also 10 Mbps and 100 Mbps for compatibility with lower-speed devices. Older 10/100 switches cannot handle Gigabit speeds; however, all Ethernet devices sense the speed of the connection and transmit at the highest common denominator.

Unmanaged and Managed Switches
A basic "unmanaged" Ethernet switch has no user configuration. It is placed in the network; the cables are plugged in; the unit is turned on and there is nothing else to do. In contrast, for large company networks, a "managed" switch can be configured to adjust speeds, combine users in subgroups, monitor traffic and report network activity. See virtual LAN, SNMP, spanning tree protocol and Ethernet.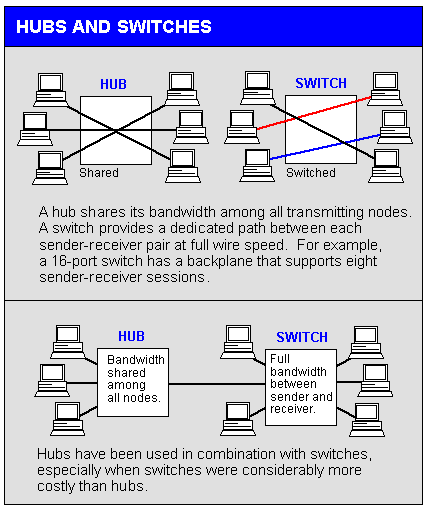 Hubs and Switches
Although an Ethernet switch is sometimes called a hub, there is a huge difference between a true hub and switch. Most Ethernet hubs have been replaced with switches, vastly improving network throughput.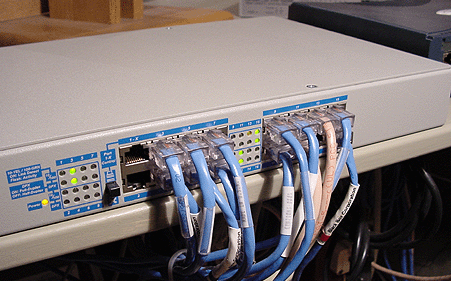 Ethernet Switch
In 2015, still going strong after a decade and a half, this unmanaged 10/100 16-port switch from Omnitron was one of the first fanless and totally quiet switches on the market.

In the Home Theater Rack
Switches and hubs plug into other switches and hubs. This 5-port Ethernet switch connects to the Ethernet switch above and to set-top boxes and other equipment in this home theater rack.