Gingerbread folk architecture
Gingerbread folk architecture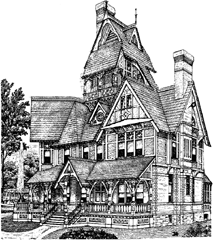 A style of
folk architecture
widely applied to homes in America from about 1870 to 1910; especially characterized by the heavy use of
gingerbread
,
spindlework
, and ornate
bargeboards.
Often, these elaborate embellishments were added to an older house to update it or included in a new house to make it appear to be
au courant.
Heavily ornamented porches were common; in larger houses, many were two stories high, with decorative balustrades with spindlework balusters and lacelike
spandrels.
Also see
Carpenter Gothic, Queen Anne style, Steamboat Gothic, Victorian architecture.
McGraw-Hill Dictionary of Architecture and Construction. Copyright © 2003 by McGraw-Hill Companies, Inc.