Gingerbread style
Gingerbread style
(1830–1880)

A rich and highly decorated style featuring the ornate woodworking of American buildings, particularly in vogue during the Victorian era.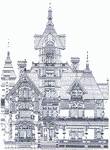 Illustrated Dictionary of Architecture Copyright © 2012, 2002, 1998 by The McGraw-Hill Companies, Inc. All rights reserved
Gingerbread style
A richly decorated American building fashion of the 19th cent.
McGraw-Hill Dictionary of Architecture and Construction. Copyright © 2003 by McGraw-Hill Companies, Inc.