glory
(redirected from Glory (disambiguation))
Also found in:
Dictionary
,
Thesaurus
.
glory
[

′glȯ·rē

]

(optics)

A set of concentric, colored rings of light around the shadow cast by an observer or his head onto a cloud or fog bank.
Glory
an optical phenomenon of the atmosphere, consisting of colored rings around the shadow of the observer (or the shadow of an object near him), which falls on a cloud or a layer of mist. Glories are often observed in the mountains (where clouds are situated lower than the observer) or on flights above the clouds. The colors of a glory are distributed so that the inner ring is bluish and the outer, red. This is explained by the diffraction of light. A precise theory governing this phenomenon has not yet been developed.
glory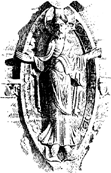 The luminous halo encircling the head of a sacred person and the radiance or luminous emanation encompassing the whole.
glory
A ring of colors surrounding the shadow of an aircraft in flight onto a cloud layer. While it is visible from the air when the aircraft is at a suitable angle, it can be observed from an elevated position on the ground if the sun casts a shadow of the observer onto a layer of low-lying mist or fog. Also called a
broken specter
or a
corona
. See also
broken specter
and
corona
.