Android Pay
(redirected from Google pay)
Android Pay
Google's second-generation digital wallet payment system. Launched in 2015 after Google's acquisition of the Softcard payments system, Android Pay competes with CurrentC and Apple Pay, introduced earlier. Android Pay works with the four major credit cards as well as debit cards from Bank of America, PNC and others.

Android Pay Vs. Google Wallet
Unlike Google Wallet, which is an app, Android Pay and a fingerprint reader are built into Version 6.0 of the Android operating system. Also with Wallet, Google would generate a "virtual" MasterCard from any card the user had. Android Pay uses the person's actual account number, which means the card issuer must specifically support Android Pay. In addition, Android Pay is more secure. See Google Wallet and mobile payments service.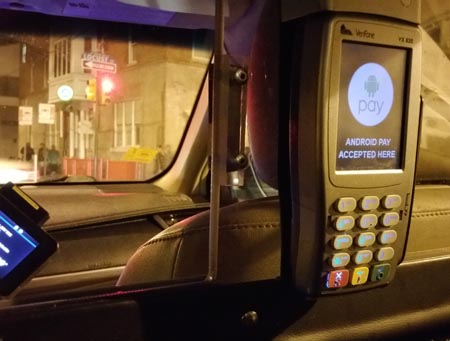 Pay Your Fare with Android Pay
In 2015, riders could pay their fare with Android Pay in a Philadelphia taxicab.