Grader
Also found in:
Dictionary
,
Thesaurus
,
Medical
,
Financial
,
Wikipedia
.
grader
[

′grād·ər

]

(mechanical engineering)

A high-bodied, wheeled vehicle with a leveling blade mounted between the front and rear wheels; used for fine-grading relatively loose and level earth.
Grader
a trailer-type earth-leveling machine that, through activation of its power source, cuts banks and shifts and levels ground, snow, and loose construction materials. Graders are used in agriculture and for construction and maintenance of roads and airports. A grader has a blade with a cutting edge mounted to its frame. This blade is easily lifted, lowered, and turned in both horizontal and vertical planes. Grader machines built in the USSR have blade lengths of 2.5 to 4.5 m and a productivity of 45 cu m/hr. Self-propelled graders are in especially wide use because of their greater productivity and maneuverability.
grader, towed grader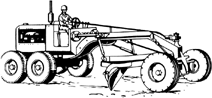 A multipurpose machine used for leveling and crowning, mixing and spreading, ditching and bank sloping, and side casting material, or for light stripping operations; not intended for heavy excavation.