Grain Thrower
The following article is from The Great Soviet Encyclopedia (1979). It might be outdated or ideologically biased.
Grain Thrower
a machine for loading granaries, for shaping and scooping bales of grain on the threshing floor and in granaries, and for moving and loading grain. The ZM-30 grain thrower (see Figure 1) used in the USSR consists of a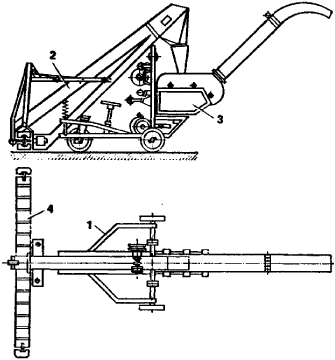 conveyor and feeder, a throwing belt, lifting and propulsion mechanisms, and an electrical drive. The feeder feeds grain to the conveyor, which pours it onto the belt, and the belt throws the grain through a guiding chute. With wheat, the grain thrower has a productivity of 30 tons per hr; the maximum throwing range is 10 m; the throwing height is 10 m; and the required power is 7 kilowatts.
The Great Soviet Encyclopedia, 3rd Edition (1970-1979). © 2010 The Gale Group, Inc. All rights reserved.