Greek Revival style
Greek Revival style
(1750–1860)

The Greek contribution to Neoclassical architecture stood for a purity and simplicity of structure and form. The buildings are square or rectangular, proportions are broad, details are simple, facades are symmetrical and silhouettes are bold. Freestanding columns support a pedimented gable. Many government and civic buildings are designed in this style, which is more suited to these building types than to smaller domestic buildings.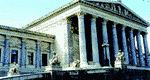 Illustrated Dictionary of Architecture Copyright © 2012, 2002, 1998 by The McGraw-Hill Companies, Inc. All rights reserved
Greek Revival style

An architectural style based on the reuse of ancient Greek forms in architecture. Public buildings in this style were usually symmetrical in plan and rectangular in shape. Buildings in this style are commonly characterized by: asymmetrical plan, a symmetric front-gabled façade with a classical pedimented portico extending across the building; a façade of brick, clapboard, or stone construction; a partial-height porch, sometimes with the porch roof having a raked cornice supported on round or square columns with ornamental capitals; pilasters; a frieze or a plain wide band of trim with a simple
architrave
below a heavy cornice; walls that imitate flat stonework, wood buildings often painted white; typically sparse ornamentation, including classical Greek decorative motifs; gabled or hipped roof; widely spaced double-hung windows trimmed with decorative crowns; a wide, imposing entryway, framed by pilasters or engaged columns; an entry door usually having raised panels with a horizontal line of small
lights
above the door; a vertical line of small lights on each side of the door. In America, during the height of its widespread popularity from about 1820 to the 1850s, Greek Revival was frequently called the National Style. Also see
Classical Revival style
and
Neoclassical style.
McGraw-Hill Dictionary of Architecture and Construction. Copyright © 2003 by McGraw-Hill Companies, Inc.