Greene, Charles Sumner
Greene, Charles Sumner
architects; brothers born in Brighton, Ohio. They attended the manual training program at Washington University, St. Louis, and then studied at the Massachusetts Institute of Technology. In partnership in Pasadena and Los Angeles (1893–1922), they drew on influences ranging from Japanese art to mission style and became the foremost American proponents of the Arts and Crafts movement, collaborating with artisans on a series of custom wood-construction California bungalows that integrated architectural, interior, and landscape design and dominated Pasadena architecture in their day.
Greene, Charles Sumner
(1868–1957)

American-born architect; studied at MIT and set up practice with his brother Henry in Pasadena, CA. They used projecting roofs, flat gables, and timber construction. The most well known is the Gambel House in Pasadena built in 1908.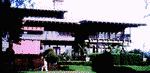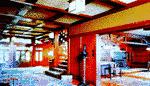 Illustrated Dictionary of Architecture Copyright © 2012, 2002, 1998 by The McGraw-Hill Companies, Inc. All rights reserved