Greenwich hour angle
Also found in:
Acronyms
.
Greenwich hour angle
(grin -ij, -ich, gren -,) (

GHA

) The hour angle of a celestial body or point on the Greenwich meridian. It is equal to the Greenwich sidereal time minus the right ascension (in hours) of the body or point.

Collins Dictionary of Astronomy © Market House Books Ltd, 2006
Greenwich hour angle
[

′gren·ich ′au̇r ¦aŋ·gəl

]

(astronomy)

Angular distance west of the Greenwich celestial meridian; the arc of the celestial equator, or the angle at the celestial pole, between the upper branch of the Greenwich celestial meridian and the hour circle of a point on the celestial sphere, measured westward from the Greenwich celestial meridian through 360°. Abbreviated GHA.

McGraw-Hill Dictionary of Scientific & Technical Terms, 6E, Copyright © 2003 by The McGraw-Hill Companies, Inc.
Greenwich hour angle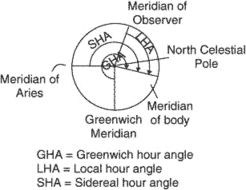 The arc of the equatorial westward through 360° and measured from the celestial meridian of the Greenwich to the hour circle of the body.
An Illustrated Dictionary of Aviation Copyright © 2005 by The McGraw-Hill Companies, Inc. All rights reserved