Griffin, Walter Burley
Griffin, Walter Burley
(1876–1937) architect, landscape designer, city planner; born in Maywood, Ill. In his early career he practiced independently and simultaneously worked closely with Frank Lloyd Wright, his work stressing indigenous materials and community planning. Collaborating with his wife Marion Mahony Griffin in Australia after winning the competition to plan Canberra (1914–35), he introduced the ideas of Wright and Louis Sullivan to that country.
Griffin, Walter Burley
(1876–1937)

Worked in Chicago with Frank Lloyd Wright before being appointed director for the design and construction of the Federal Capitol at Canberra, Australia, in 1913. Here he also designed many major works with his wife, Marion Lucy Mahoney (1871–1961).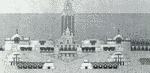 Illustrated Dictionary of Architecture Copyright © 2012, 2002, 1998 by The McGraw-Hill Companies, Inc. All rights reserved