Grillage
Also found in:
Dictionary
.
grillage
[

grē′yazh

]

(civil engineering)

A footing that consists of two or more tiers of closely spaced structural steel beams resting on a concrete block, each tier being at right angles to the one below.

McGraw-Hill Dictionary of Scientific & Technical Terms, 6E, Copyright © 2003 by The McGraw-Hill Companies, Inc.
The following article is from The Great Soviet Encyclopedia (1979). It might be outdated or ideologically biased.
Grillage
the part of a pile foundation (beam or slab) that connects the tops of the piles and acts as a support for the erection of structural elements. Grillage is considered to be high if it is located considerably above the ground or water level (for example, in wharf structures for ports); it is considered low when placed near the ground or deep into it (for example, in the foundations of houses and industrial buildings). The preferred materials for grillage are plain and reinforced concrete (prefabricated or cast-in-place); the use of wood and metal is not common. The word "grillage" derives from previously used supporting structures, which were in the form of a grid of wooden beams on which plank flooring was laid.
The Great Soviet Encyclopedia, 3rd Edition (1970-1979). © 2010 The Gale Group, Inc. All rights reserved.
grillage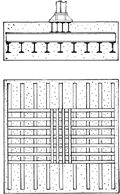 1. A framework of heavy timbers, steel, or reinforced concrete beams laid longitudinally and crossed by similar members laid upon them to spread a heavy load over a larger area, esp. for use where the ground is not firm.
2.
A series of steel beams, bolted together and placed over a
footing
; used to distribute a concentrated column load over the top of the footing.
McGraw-Hill Dictionary of Architecture and Construction. Copyright © 2003 by McGraw-Hill Companies, Inc.