griffin
(redirected from Griphon)
Also found in:
Dictionary
,
Thesaurus
.
Griffin,
city (1990 pop. 21,347), seat of Spalding co., W central Ga., in a farm and cotton area increasingly integrated into metropolitan Atlanta's economy; inc. 1843. The city's textile and clothing industries are in decline; other manufactures include leather, plastics, and transportation equipment. Nearby is a state agricultural station.
---
griffin,
in ancient and medieval legend, creature with the head and wings of an eagle and the body of a lion. Its name also appears as griffon and gryphon. The griffin originated in ancient Middle Eastern legend and is often found in Persian sculpture and the decorative arts. Although its significance is obscure, it is often thought to have been a protective symbol, representing strength and vigilance.

The Columbia Electronic Encyclopedia™ Copyright © 2013, Columbia University Press. Licensed from Columbia University Press. All rights reserved.

www.cc.columbia.edu/cu/cup/
griffin
A mythological beast with a lion's body and an eagle's head and wings, used decoratively.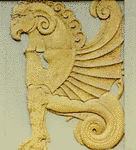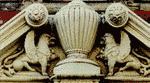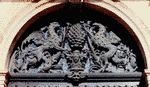 See also: Ornament

Illustrated Dictionary of Architecture Copyright © 2012, 2002, 1998 by The McGraw-Hill Companies, Inc. All rights reserved
griffin, griffon, gryphon
A mythological beast having a lion's body with an eagle's head and wings; used decoratively.
McGraw-Hill Dictionary of Architecture and Construction. Copyright © 2003 by McGraw-Hill Companies, Inc.
griffin
fabulous animal, part eagle, part lion. [Gk. Myth. and Art: Hall, 143; Ital. Lit.: Purgatory]
Allusions—Cultural, Literary, Biblical, and Historical: A Thematic Dictionary. Copyright 2008 The Gale Group, Inc. All rights reserved.
griffin
1, griffon, gryphon

a winged monster with an eagle-like head and the body of a lion
---
griffin
2
a newcomer to the Orient, esp one from W Europe
Collins Discovery Encyclopedia, 1st edition © HarperCollins Publishers 2005