Guttae
Also found in:
Dictionary
,
Medical
,
Acronyms
.
The following article is from The Great Soviet Encyclopedia (1979). It might be outdated or ideologically biased.
Guttae
(regulae), in structures of the Doric order, the six small projections shaped like truncated cones and placed on the lower surface of each shelf above and below the triglyphs and also above the metopes.
The Great Soviet Encyclopedia, 3rd Edition (1970-1979). © 2010 The Gale Group, Inc. All rights reserved.
gutta ( pl. guttae)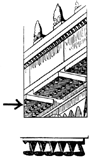 In Classical architecture, one of a number of pendant ornaments in a rectangular arrangement; each gutta is shaped like an inverted frustum of a cone, i.e., a cone in which the upper tip has been lopped off; usually found on the underside of the
mutules
of a Doric entablature.
McGraw-Hill Dictionary of Architecture and Construction. Copyright © 2003 by McGraw-Hill Companies, Inc.