hash function
(redirected from Hash (computer science))
hash function
(programming)

A

hash coding function

which assigns a data item distinguished by some "key" into one of a number of possible "hash buckets" in a hash table. The hash function is usually combined with another more precise function.

For example a program might take a string of letters and put it in one of twenty six lists depending on its first letter. Ideally, a hash function should distribute items evenly between the buckets to reduce the number of hash collisions. If, for example, the strings were names beginning with "Mr.", "Miss" or "Mrs." then taking the first letter would be a very poor hash function because all names would hash the same.

This article is provided by FOLDOC - Free Online Dictionary of Computing (foldoc.org)
hash function
An algorithm that turns a variable amount of data into a small, fixed-length value called a "hash value," "hash code" or "digest." See SHA, hash and cryptographic hash function.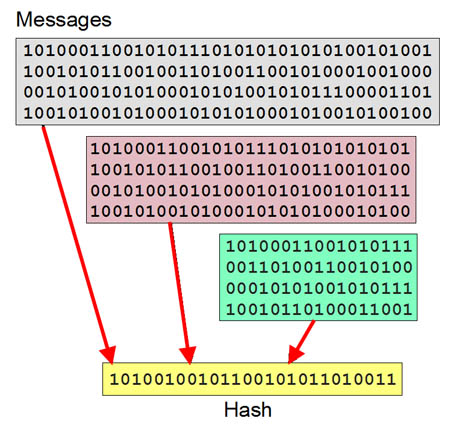 The Hash Is Always Fixed in Length
No matter the size of the message (the data being hashed), the resulting hash is a fixed length binary number that cannot be converted back into the original data.
Copyright © 1981-2019 by The Computer Language Company Inc. All Rights reserved. THIS DEFINITION IS FOR PERSONAL USE ONLY. All other reproduction is strictly prohibited without permission from the publisher.