Hinge Line
Also found in:
Acronyms
.
hinge line
[

′hinj 'līn

]

(geology)

The line separating the region in which a beach has been thrust upward from that in which it is horizontal.

A line in the plane of a hinge fault separating the part of a fault along which thrust or reverse movement occurred from that having normal movement.

McGraw-Hill Dictionary of Scientific & Technical Terms, 6E, Copyright © 2003 by The McGraw-Hill Companies, Inc.
The following article is from The Great Soviet Encyclopedia (1979). It might be outdated or ideologically biased.
Hinge Line
a line connecting the points of maximum bending of the strata in a fold. If a series of strata is compressed into a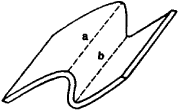 fold, each stratum has its own hinge line, and the plane that passes through the corresponding series of hinge lines is called the axial surface of the fold.
The Great Soviet Encyclopedia, 3rd Edition (1970-1979). © 2010 The Gale Group, Inc. All rights reserved.