Hodograph
Also found in:
Dictionary
,
Wikipedia
.
hodograph
[

′häd·ə'graf

]

(physics)

The curve traced out in the course of time by the tip of a vector representing some physical quantity.

In particular, the path traced out by the velocity vector of a given particle.

McGraw-Hill Dictionary of Scientific & Technical Terms, 6E, Copyright © 2003 by The McGraw-Hill Companies, Inc.
The following article is from The Great Soviet Encyclopedia (1979). It might be outdated or ideologically biased.
Hodograph
in mechanics, a curve that is a locus of the ends of a variable vector whose values at different moments of time are laid off from a fixed origin O (see Figure 1).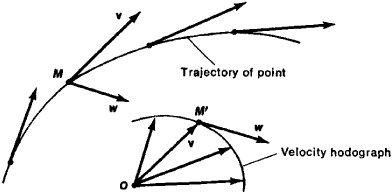 The concept of the hodograph was introduced by the English scientist W. Hamilton. The hodograph visually and geometrically represents the changes with time of a physical quantity, represented by a variable vector, and the rate of this change, which has the same direction as the tangent to the hodograph. For example, the velocity of a point is a quantity represented by the variable vector v. Plotting the values of vector v from the origin O at different moments of time, we derive the velocity hodograph. The quantity characterizing the rate of change in velocity at point M (that is, the acceleration w at point M) for any moment of time has the same direction as the tangent to the velocity hodograph at the corresponding point (M').
The Great Soviet Encyclopedia, 3rd Edition (1970-1979). © 2010 The Gale Group, Inc. All rights reserved.